August 12, 2023 || Tongsan Media Group ||
It is reported that 10 civilians, including women and children, were injured when the Military council attacked villages with heavy weapons and air force after the Chin Alliance attacked the Military council's Khah-Lah-Yah (268) battalion in Falam, Chin State.
A spokesman for the Chin National Defense Force (CNDF) said that the Chin Alliance led by the Chin National Army (CNA/CNF) attacked the Military Council Khah- Lah-Yah (268) battalion in Falam town on the morning of August 12th from 1:00 to 2:30. "This morning from 1:00 to 2:30 the CNA/CNF went to shoot, We haven't heard anything about it, so we don't know anything yet. I heard that one KKG was killed," CNDF spokesperson Salay Kung Ngai said.
Then, from morning to 12 noon, the military council held a meeting with 120 women from the 268th battalion. 80 Ms. It is reported that 40-mm heavy weapons were fired indiscriminately towards the villages, and three (3) people, including a child, were injured.
Among the injured (3), a 10-year-old girl suffered a head injury. The 18-year-old son suffered back injuries and the 40-year-old mother suffered leg injuries, a CNDF spokesman said. At around 11:00 a.m., Falam township, The Ramtlo village on the road of Hakha – Falam was bombed again by a jet plane, killing 4 civilians. A total of 7, 3 men, received non-critical injuries.
It is reported that some houses including the church in Ramtlo village were also damaged. Tongsan Media Group is still in contact to find out more details about the battle that took place in Falam today. On April 10, 2023, after the military council camp near War Bridge was seized, the military council army bombarded Waibula town, including Ramtlo village, from the air.
Source: RFA / Khonumthung
Translated: Tongsan Admin Team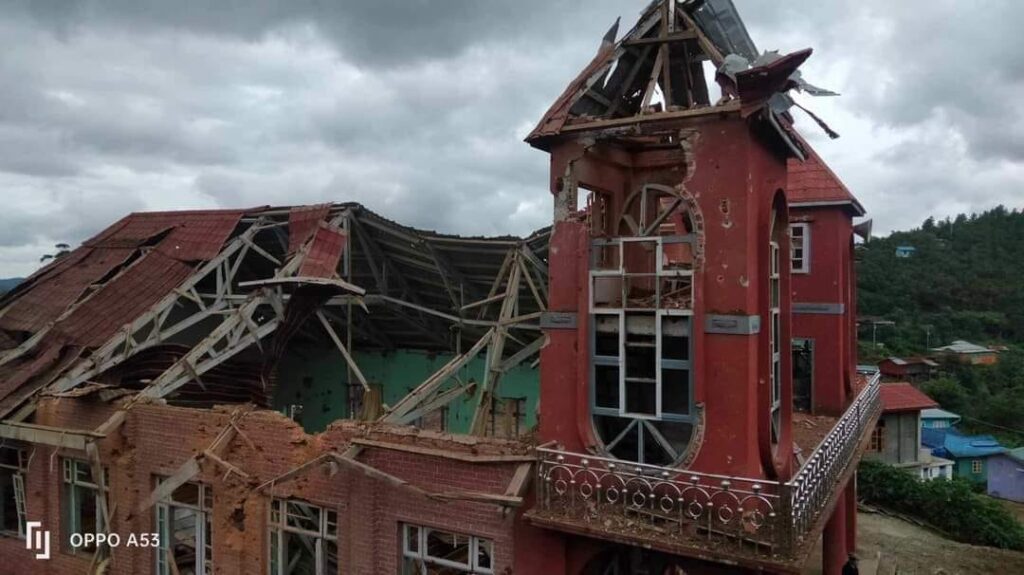 Hits: 5