Starting from the 1027 operation, the Chin National Defense Force (CNDF) strategically planned the CNDF Special Operation in support of the terrorist military council military camps throughout the Union, and attacked and occupied the Khampat town Myaukshi Police Station and the Tibual Military Camp, the Chin National Organization – CNO announced.
At around 4:30 a.m. on November 3rd, the Khampat police station was attacked and captured on November 5th. One policeman was killed and 3 MA2 guns, 1 M16 gun, 2 short guns, 1 carbine gun, 1 40 mm – 1 6-barreled gun, and 2 guns were seized. The attack was carried out by the joint forces of CNDF, SR2, TDA, RCDF, ABSDF and Tamu District Battalion (Ministry of Defense) and it was reported to have been successful without any casualties.
After that, they continued to attack the Khlara-228 military base in Khampat town and captured the Military Council military base on November 7th. During the battle, they intercepted and confiscated the ammunition boxes provided by the terrorist air force. About 5 members of the terrorist military corps were killed and CNDF soldier Salai Lal Pek Thanga paid the price for the country and the nation.
Similarly, on November 3, Kale Township, On November 4th, the police station in Myaukshi village was attacked and captured. 10 members of the Terrorist Military Council were killed, 6 G3 guns, 1 G4 gun, 1 MAI gun, 1 MAT gun, 1 40 mm gun – 1 Uzi gun, 1 revolver gun, 2 5.56 rounds – 2274 cartridges 7 .62 ammunition – 420 rounds, 60 projectiles – 10 rounds, 9mm rounds – 480 rounds, ammunition boxes – 19 landmines – 15 forward mines – 8 grenades – 7, and other military equipment were seized.
The attack was fought jointly by CNDF, RKDE, SR, Kale Town District Pah Kah Phah and Kale District Battalion. CNDF soldier Salai Thawng Tha Cung @ Cungte and two RKDF soldiers sacrificed their lives for the country and people. In addition, at about 11:50 p.m. on November 14th, Falam Township's Tibual military camp was attacked, and there was a firefight with heavy weapons, drones and small arms for more than 4 hours.
4 MAI guns, 1 MA3 gun, 60mm diamond grenades – 2 RPGs – 65 40mm grenades, 180 60mm grenades – 72 engas, 80 grenades – 63 1 drone jammer 5.56 rounds – 16,252 rounds 7.62 rounds – 8,100 rounds landmines – 51 forward mines – 23 and other military equipment were seized. In addition, 61 bags of rice and food products from the warehouse, chickens raised in the camp were also seized.
After confiscating the weapons and other related materials from the Tibual camp, the camp was set on fire at about 6:30 in the morning. In the battle to capture the camp, 2 soldiers of the Terrorist Military Council were killed and 2 CNDF were seriously injured.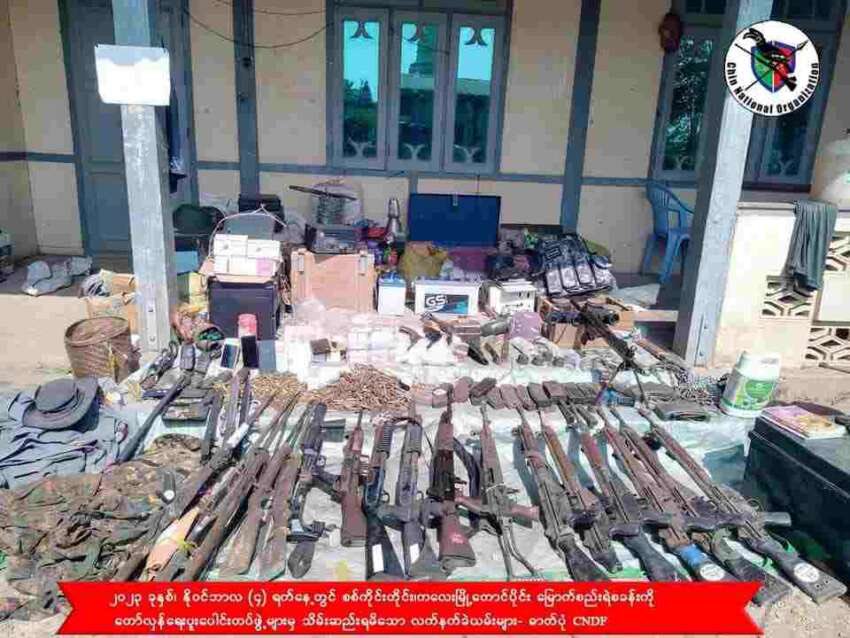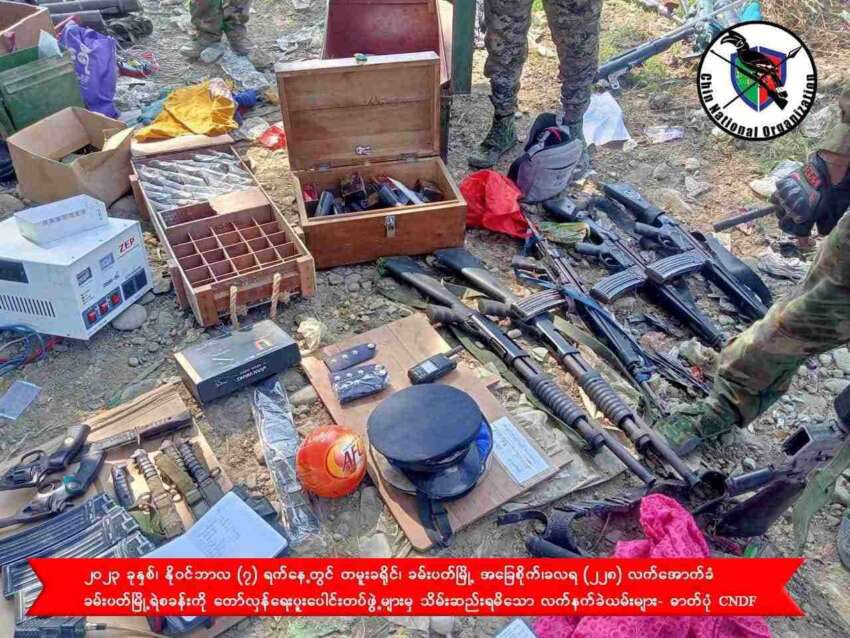 Hits: 1