September 23, 2023 || Tongsan Media Group ||
The No. 19 Battalion of Gangaw Township said that 3 Military Council soldiers were killed and 15 guns and related equipment were seized when a military group attacked a camp hill in Gangaw Township, Magway District, on September 18 at past 4:00 a.m. It is said that the PDF joint forces attacked the camp 1 furlong northeast of Kanthet village, which was stationed with more than 20 military council soldiers, including Pyu Saw htee soldiers, after about 20 minutes, and 1 military council soldier and 2 Pyu Saw htee soldiers were killed.
"We witnessed the deaths of Saka and Pyu. The rest ran away without taking the dead bodies. We were able to seize the weapons that were left in the camp," said the information officer of the 19th Battalion of Gangaw Township. During the battle, since reinforcements from the Military Council did not arrive, the rest of the Military Council and Pyu Saw htee soldiers fled to the Military Council's Defense Equipment Factory (KAPS) 23, the information officer added.
After the battle, 9 carbines; 6 hands of Greener 18 carbine cartridges; 7 boxes of MA ammunition; 900 carbine bullets; 200 greener bullets 150 MA bullets; He added that 5 enaga bombs were recovered and the PDFs were not harmed. This attack was carried out in Gangaw District No. 7, 18, 19 battalions, 2nd CDF King Army Battalion Pontaung Garoon and Ponnya Storm PDF joint forces worked together.
Last August 21, at past 9:00 a.m., the Yaw Defense Force (YDF) attacked a Military Council military camp hill, which is the military focal point of Kapas 23, northwest of Yaw town, Gangaw township, resulting in the death of 3 soldiers, 2 MA-3 guns, 13 boxes of ammunition 343 bullets 4 eggs, 1 backpack 4 phones and 2 power banks were seized.
Ref: Myaelatt Media
Translated: Tongsan Admin Team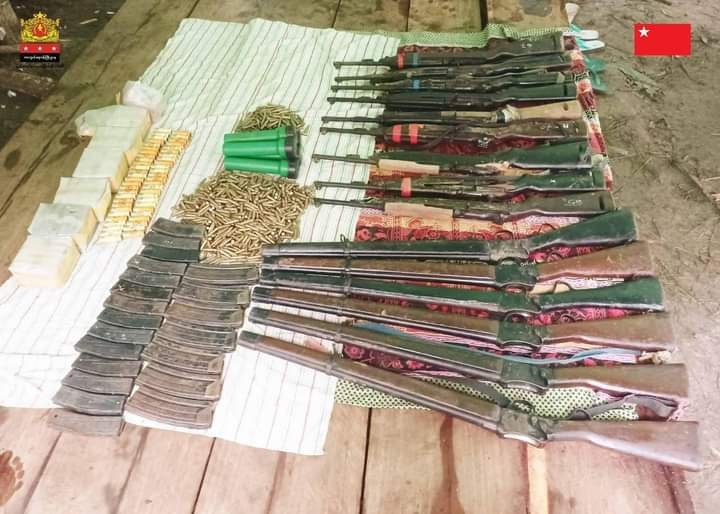 Hits: 2