September 10, 2023 || Tongsan Media Group ||
The Burma Royal Dragoon Army – MRDA, led by a revolutionary from Pale District, including the revolutionary groups from Sagaing Region, Magwe Region and Mandalay Region, joined forces to form the "Burma National Revolutionary Army – BNRA" on September 9th, BNRA announced.
The MRDA information officer told MFP that MRDA will be dissolved since BNRA has been formed. "MRDA will be abolished, dear. The position of BNRA chairman has been taken over by Bol Naga," MRDA information officer told Media group. He also said that he will continue to publish information about the revolutionary organizations involved in BNRA.
"The Burmese National Revolutionary Army – BNRA is a force that will support the revolutionary processes of the National Unity Government (NUG) by systematically organizing large and medium-sized groups in Sagaing Division, Magwe Division, and Mandalay Division Upland, including the Myanmar Royal Dragoon Army – MRDA," said a statement sent to the news media on the formation of BNRA.
BNRA was formed with four main objectives, namely, the establishment of a new federal democratic country with equality and the end of totalitarianism, including the NUG and the ground revolutionary forces. He said that he will fight together with all ethnic armed resistance groups.
Source: Burma Media Consortium
Translated in English Version : Tongsan Admin Team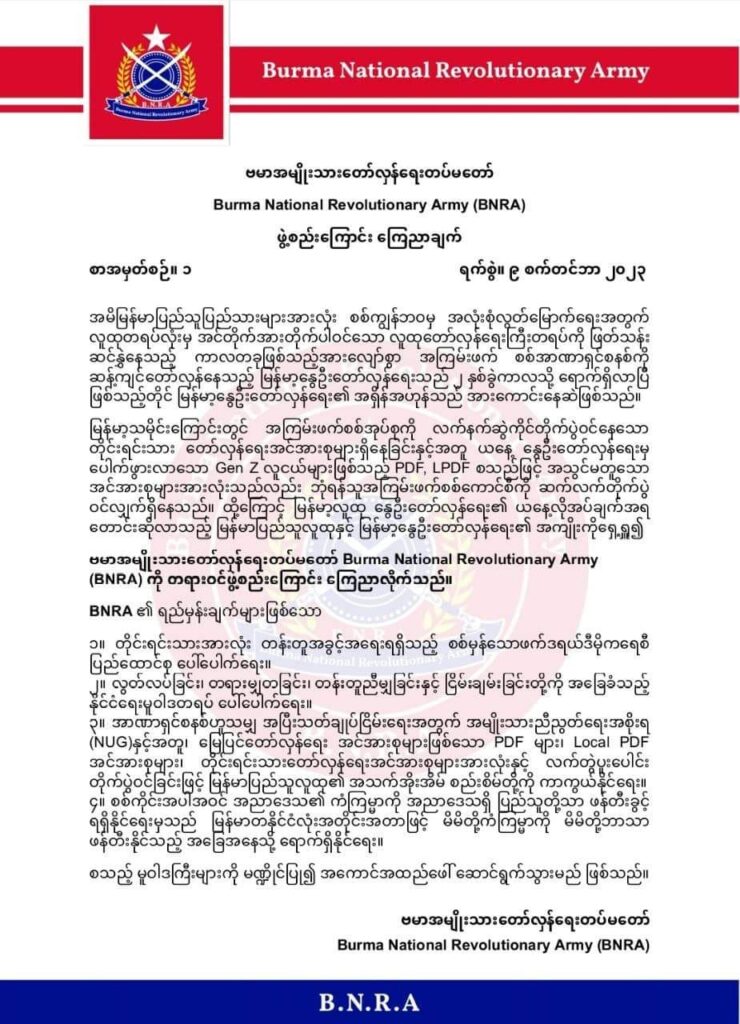 Hits: 4