June 24, 2023 | Tongsan Media Group |
Zokam Version:
Yazazu Gunlei tung pan Mawtaw Kia-in mi 6 si:
Sagaing Division, Kalay township, Zayazu pan Sialthawzang khua lam zuan apai Pa Mang Khen Mawtaw pen tuni June 24, 2023 ni (12:00 noon) hunin Zayazu khua kiang Gunlei tung pan kamsiatna tawh kia a, Mawtaw nei Pa Mangkhen leh adang mi 6 amun ah sipah cih thu Tedim Times pan kizasawn hi. A liamte pen Zayazu District hospital ah kipuak pah ci hi. A site' innkuanpih adah akapte khempeuh Khasiangtho in na hehnem hen.
Burmese Version:
ရာဇဂြိုလ် တံတားပေါ်ကကားပြုတ်ကျလို့ ၆ ဦးပွဲချင်းပြီးသေဆုံ
ကလေးမြို့နယ် ရာဇဂြိုလ်ရွာကနေ တွန်းဇံမြို့နယ် ရှာလ်ထောဇန်ရွာဘက်ကို သွားတဲ့ဒေသခံ ဦးမာန်ခင်းရဲ့ကားကို ဇွန်လ ၂၄ ရက် နေ့လည် ၁၂ နာရီဝန်းကျင်မှာ ရာဇဂြိုလ် တံတားပေါ်ကနေ ပြုတ်ကျပြီး ပိုင်ရှင် ယာဉ်မောင်း ဦးမာန်ခင်း အပါအဝင် လူ ၆ဦး ပွဲချင်းပြီးသေဆုံးခဲ့တယ်လို့ တီးတိန်တိုင်းမ်သတင်းအရသိရပါတယ်။ ဒဏ်ရာရရှိသူတချို့ကို ရာဇဂြိုလ် တိုက်နယ် ဆေးရုံကိုပို့ဆောင် ကုသပေး နေတယ်လို့သိရပါတယ်။
English Version:
6 people died on the spot when a car fell off the bridge
According to Titin Times, the car belonging to a local resident, Pa Mang Khen, who was traveling from the village of Yazazu in Kalay Township to the village of Sialthawzang in Township, fell down the bridge of Yazazu at around 12:00 noon on June 24, killing 6 people, including the owner and driver, Pa Mangkhen. It is reported that some of the injured people are being treated at the Yazazu District Hospital.
Source: Tedim Times
Translated: Tongsan Admin Team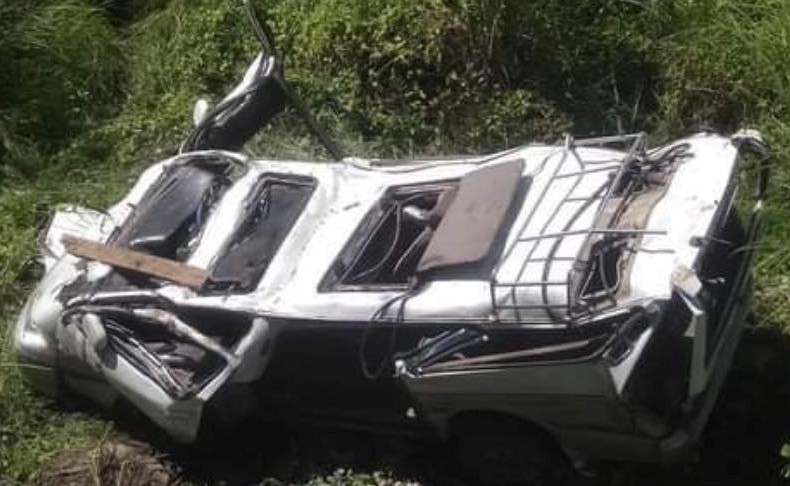 See Translation
Hits: 2