August 14, 2023 || Tongsan Media Group ||
Chin State The Chin National Front (CNA) attacked a Military Council camp in Thantlang on the morning of August 14. It was learned that the joint forces of CDF-Thantlang and CDF-Zophei seized and captured 2 soldiers of the military council alive.
The CNA, CDF joint forces attacked the Military council camp near Thantlang city and confiscated 6 weapons, and also captured 2 military council soldiers alive, he said. 1 from the CDF Thantlang force; He said that 2 of the CDF Zophei forces were killed and 3 civilians were killed.
Due to the high number of casualties on the side of the military council, in addition to providing support with heavy weapons from Hakha town, they also bombarded Khuafo village, which is about five miles away from Thantlang town, with jet fighter. Although no one was injured in the attack, a local resident said that four houses, including the Khuafo Baptist Church building, were damaged.
The last March 30, 2023, the military council air bombed Khofo village, killing nine residents, including two children. General Min Aung Hlaing, Chairman of the Military Council, said on July 31 that since there are conflicts in Sagaing Region, Magway Region, Bago Region, Tanintharyi Region, Karen State, Kayah State, Chin State, and Mon State, they will stabilize during the emergency period.
Source: RFA News & Zalen
Translated: Tongsan Admin Team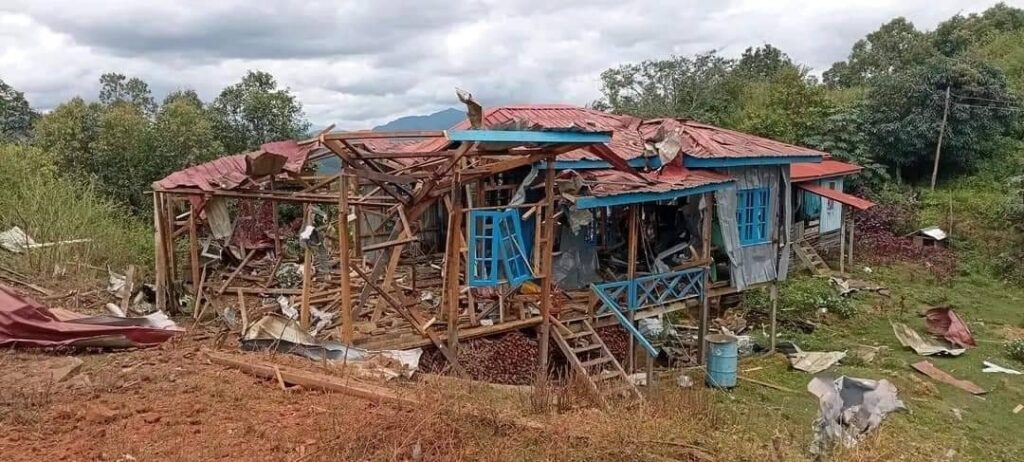 Hits: 4