Shan State leh Karenni State gamgi Mobye – Phekong a om SAC ii Setdaw Pagoda strategic hill leh adang SAC galphual kigawm mun 8, teng pen Joint Revolutionary Force te in Nov. 18, 2023 ni-in busim in lakhiazo ta uh cih thu Urban Revolutionary Front (U.R.F) pan thukizakna vaisaipi in pulakkhia hi.
November 19, ni-in No. 2 Operation Command Headquarters (Sah Kah Khah 2), nuai a om No. 518 Infantry Battalion (Khah Mah Yah -518) pan galphual pansan ahi Southern Shan State, Mobye khuapi, Setdaw pagoda hill pen PDF, Central Military Command, Southern Shan Military Division ii ukna nuai a om PDFte leh KNLF te kipawlin lakhia uh cih thu NUG (Ministry of Defense) zumpi in alim (Photo) tawh kciiantak pulalkhia uh hi.
Mobye – Phekong Area sunga om SAC te phualsatna munte leh Galhuhna phual (Support Station)te busim in sutkhia uh a, November 11 ni zingsang (05:00am) pan kipan galkapte' phualsatnate ahi Wari Sophalai, Dongduthan, Puai gone 3, Puia gone 1, Nyaungwai, Peking Kawkhu, Saungkan, Shika 2 khuaneu kimteng a om SAC galphual 8 teng lakhia / sutkhia uh ci hi. SAC pawlin Thaupi tawh 500 val vei kap uh a, Vanleng tawh 2 vei val kap in, tua bangin a kapna hangin Moebye, Phekhong kim a om khuami 4 si-in, 6 liam uh cih kiza hi.
"Mobye 11.11 Operation" kipat cil ni November 11 akipan November 15 kikal sungin SAC pawlin vanleng tawh 26 vei kap uh hi. November 15, nikhat bekbek in SAC te' galphualpi ahi Loilen Air Force pan Thaupi tawh 15 vei, Phekong pan 50 vei mah kap uh hi. Mobye leh Phekong kim tengah SAC galkapte in Galvan lompi nusia in khe thawlthawlna munah taikek mang uh ahih manin, mipi galkap kipawlkhawmte (Allied Revolutionary forces) in mun leh mual siahsuahna akipan maban sep dingte sem pah ziahziah uh cih kiza hi.
Mobye Phekong mun tengah Mipi galkap kipawlkhawm teng ahi; Central Military Command leh Shan Mountain Strategy (1) Battalions nuai a om (1001) Battalion MB-1, (1002) Battalion PK-1; (1006) Battalion PK-2; (1007) Battalion MB2; (1004) PKS PDF te akipan Southern Shan Strategy (2) battalions are the (1003) battalion; (1005) Battalion (1008) Battalion (1009) Battalion 2 (1011) Battalion ahi zongin, KNDF Strategy (1) nuai a omte ahi; KNDF BO-3; KNDF BO-11, KNDF BO-22 leh khuapi busim Revolution (Urban Revolution Force- URF) cih tengin "Mobye 11.11 Operation " galdona pen 2023 November 11 ni-in kipankhia uh cih kiza hi.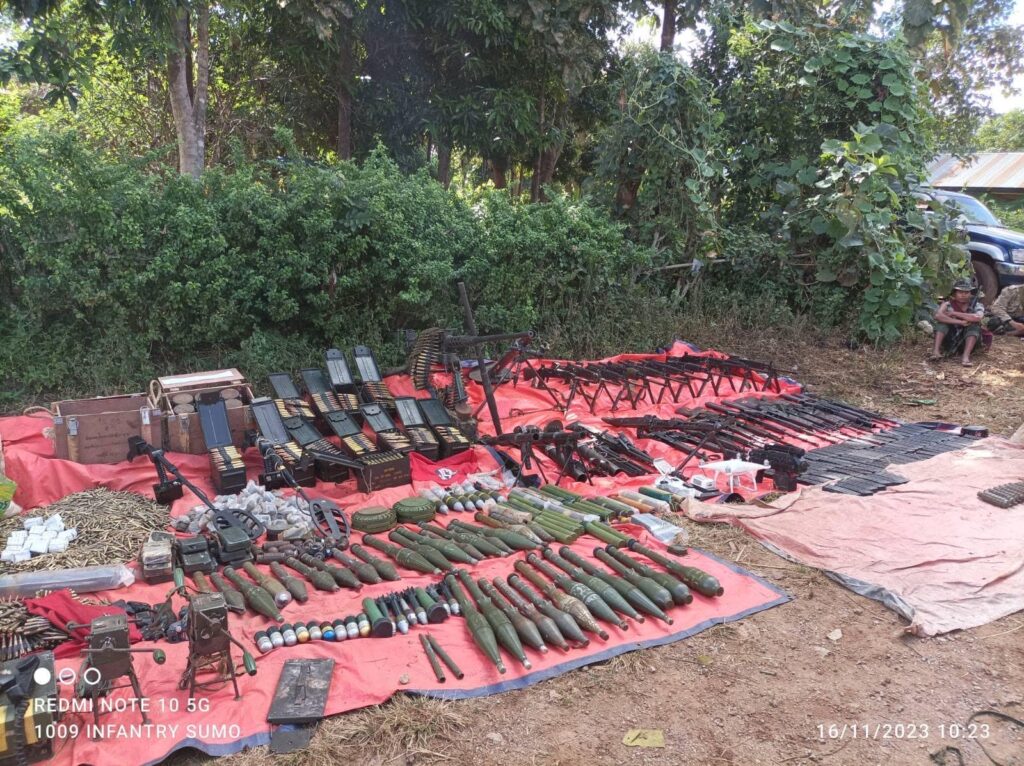 Hits: 3