Zomi Version:
July 23, 2023 || Tongsan Media Group ||
Sagaing Region, Shwebo township, Nyaung Pin Hla khua ah ukna buluh (SAC)te' mizat (Pyue Saw Htee) te' camp pen PDF te'n July 23, 2023 zingsang tung (03:00am) hunin buluh in nasiatak kikaptuah uh a, Pyue Saw Htee te 9 si-in, Thau Kabai lawng 2, Kulone lawng 1, Kulone thautang 25, Kabai thautang 209, thautang bawl (magazine) 1, galkap Uniform silh 7 cih teng ngah uh cih Shwebo township PDF te' tung pan kiza hi.
Hih kikapna Camp ah Pyue Saw Htee te 25 kim om uh hi-in, kikap hun zong minutes 20 sung bek sawt ci hi. Kikapna ah akipawl khawm PDF teng pen Shwebo township PDF, Shwebo Justice Force, Shwe Tawta Force, Leopard flying group, Shwebo twonship- Dictrict 3 PDF group, Dipayin township PDF te ahi; Galunmin group, Sanshia group, Daungmin group, Tha Ye Gyi group, Mah Tha Thaung Tha Kaung Bwe group cihte kipawlkhawm in akap uh cih kiza hi.
Burmese Version:
ညောင်ပင်လှ ပျူစောထီး စစ်စခန်းကို ဝင်ရောက်တိုက်ခိုက်မှု လက်နှင့်ခဲယမ်းများပါ သိမ်းဆည်းရရှိ
စစ်ကိုင်းတိုင်း၊ ရွှေဘိုမြို့နယ်၊ ညောင်ပင်လှပျူစောထီး စခန်းကို ဝင်ရောက်တိုက် ခိုက်ခဲ့ရာ အကြမ်းဖက် စစ်သား၊ ပျူစောထီး ၉ ဦးသေဆုံးပြီး သေနတ် ၃ လက်အပါအဝင် ခဲယမ်းများသိမ်းဆည်းရရှိခဲ့တယ်လို့ ရွှေဘိုမြို့နယ် ပြည်သူ့ကာကွယ်ရေးအဖွဲ့ထံမှ သိရပါတယ်။ ဒီကနေ့ ဇူလိုင်လ ၂၃ ရက် နံနက် ၃ နာရီဝန်းကျင်တွင် အင်အား ၂၅ ဦး ဝန်းကျင်ဖြင့် တပ်စွဲထားသော ညောင်ပင်လှကျေးရွာ ပျူစောထီးစခန်းအား ဝင်ရောက်တိုက်ခိုက်ခဲ့ရာ မိနစ် ၂၀ ခန့်အကြာ မြင့်ခဲ့တာပါ။
တိုက်ပွဲမှာ အကြမ်းဖက်စစ်သား၊ ပျူစောထီး ၉ ဦးသေဆုံးကာ ကာဘိုင် ၂ လက်၊ ကိုးလုံး ၁ လက်၊ ကိုးလုံးကျည် ၂၅ တောင့်၊ ကာဘိုင်ကျည် ၂၀၉ တောင့်၊ ကျည်ဘောက် ၁ ခုနှင့် ချပ်ဝတ်တန်ဆာ ၇ ခုတို့ သိမ်းဆည်းရရှိမိခဲ့တာပါ။ တိုက်ခိုက်မှုကို ရွှေဘိုခရိုင် ရွှေဘိုမြို့နယ်ပကဖ(PDO) (Shwebo Justice Force အဖွဲ့၊ ရွှေတော သား အဖွဲ့၊ ကျားပျံအဖွဲ့)၊ ရွှေဘိုမြို့နယ်တိုက်နယ် ၃ ပကဖအဖွဲ့နှင့် ဒီပဲယင်းမြို့နယ်ပကဖ (ဂဠုန်မင်း အဖွဲ့၊ စံရှားအဖွဲ့၊ ဒေါင်းမင်းအဖွဲ့၊ သရဲကြီးအဖွဲ့၊ မတထောင်တ‌ကောင်ဘွားအဖွဲ့)တို့ ပူးပေါင်း ကာ တိုက် ခိုက်ခဲ့ခြင်းဖြစ်ပါတယ်။
English Version:
Nyaung Pin Hla, Pyu Saw Htee Military Camp was Attacked and Weapons and Ammunition were Seized:
Sagaing Division Shwebo Township, Attacking Nyaung Pin Hla village Pyu Saw Htee camp, terrorist soldiers. According to Shwebo Township People's Defense Organization, 9 Pyu Saw Htee were killed and 3 guns and ammunition were seized. Today, July 23rd, around 3:00 a.m., a force of around 25 people attacked the Pyu Saw Htee camp in Nyaung Pin Hla village, and the attack took place after about 20 minutes.
Terrorist soldiers in battle 9 Pyu saw men killed, 2 carbines, 1 hand of nine 25 nine bullets 209 carbine bullets; 1 box of ammunition and 7 pieces of armor were recovered. The attack was carried out by Shwebo Justice Force (PDO), Shwebo Justice Force, Shwebo Township District 3 PDF group and Dipayin Township PDF (Galunmin group, Sansha group, Daungmin group, Tha ye gyi group, Matah Thaung Takaungbwa group) joined forces to fight.
Source: People's Spring
Translated: Tongsan Admin Team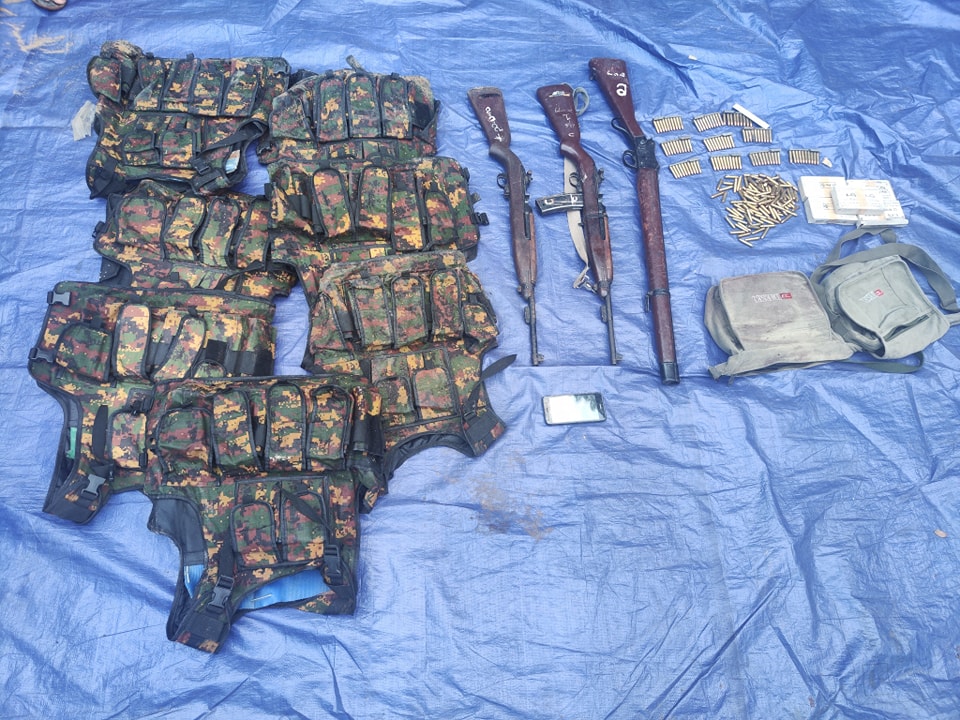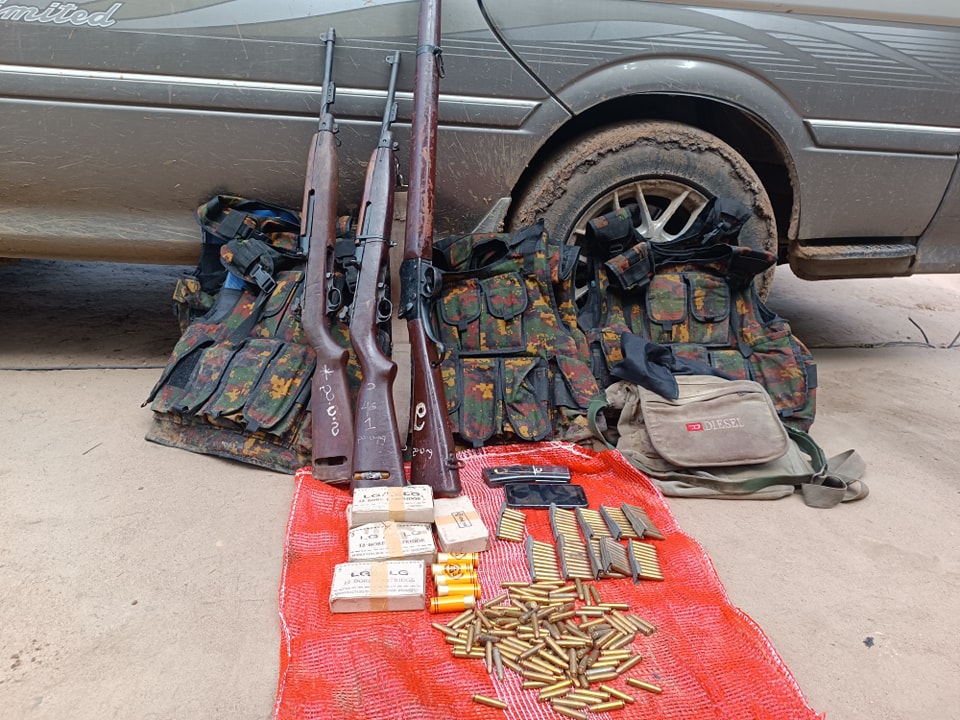 Hits: 0