June 23, 2023 || Tongsan Media Group ||
Zokam Version:
TITAN TUISUNGLUT TEMBAW PUAKKHAM, A TUANGTE SIKHIN
Abeisa 1912 kum a Atlantic tuipi sungah akia Titanic Tembawpi thu akan dingin OceanGate Company neipa CEO Mr. Stuckton Rush leh a zui ding Passenger mihau 4 te June 17, 2023 ni zingsang (08:00am) hun pawlin Atlantic tuipi a thukna pi 12000' mun a om, ama neihsa Titan tuisunglut Tembaw tawh Atlantic tuipi sung lut kipankhia uh hi. Tui sung a lut zawh uh nai 1 le minute 45 kiim ciangin a kipatkhiatna uh tuipi tunga Tembawpi tawh kithuza thei nawn lo uh hi.
Thukizakna a om theih nawnloh ciangin, Canada Tembawte' huhna tawh USA leh gam pawlkhat in Titan Tuisunglut Tembaw zon kipan uh a, mi tuanglo Set tembaw nam khat tuipi sungah khiasuk uh hi. Tembaw zong Set Tembaw pen Titanic Tembawsia omna mun atun ma tuipi tung lam ft.1600' ah Titan Tuisunglut Tembaw pen puakkham in athemthem in kimukhia cih thu US tuipi cingte (Coast Guard officer) in June 23, 2023 ni-in tangko khia uh hi. A sung atuang mi 5 te zong sikhin bek tham loin, a luangte kimuzo nailo cih hiphot hi.
Tua mi 5 te pen British gammi mihau adventurer Mr. Hamish Harding (1964-2023), Pakistan gammi mihau Mr. Philanthropist Shahzada Dawood (1975-2023) le a tapa Mr. Suleman (2004-2023), French gammi mihau tui siam minthang Titanic Expert Mr. Paul-Henri Nargeolet (1946-2023), leh OceanGate kici tuipi sung khualzinna company neipa (CEO) Mr. Stuckton Rush (1962-2023) te ahi uh hi. Passenger khatin Titan tuan man / zuih man US$ 250,000 pia uh hi.
Ocean Gate Company makaipi huh Mr. Gula Mosoline (Co-founder of the company) in Titan tuisunglut Tembaw puakkhapna hangin a site' innkuante dahpihna thu pulak hi. Tua banah Titan Tuisunglut zonna ah a makai US tuipi cingte leh Canada Tembawte akipan akihel kha a gima tawl kipawlna tuamtuamte US White House pan lungdamkohna pulak hi.
Burmese Version:
တိုင်တန်သင်္ဘော ပေါက်ကွဲခဲ့ပြီး ခရီးသည်များ သေဆုံး
တိုင်တန်းနစ်သင်္ဘောပျက်ဆီကို လေ့လာဖို့သွားရင်း ပျောက်ဆုံးသွားတဲ့ တိုင်တန်ရေငုပ်သင်္ဘောဟာ အတွင်း ပေါက်ကွဲမှုဖြစ်ပြီး ခရီးသည် ငါးယောက်စလုံး သေဆုံးသွားခဲ့တယ်လို့ အမေရိကန် ကမ်းရိုးတန်းအစောင့်တပ် အရာရှိက ကြာသပတေးနေ့မှာ ပြောလိုက်ပါတယ်။ ကနေဒါသင်္ဘောကနေ တိုင်တန်ကိုရှာဖို့ လွှတ်လိုက်တဲ့ အဝေးထိန်းစက်ရုပ်ဟာ တိုင်တန်းနစ်သင်္ဘောပျက်ရှိရာ သမုဒ္ဒရာကြမ်းပြင်အထက် ပေပေါင်း ၁၆၀၀ လောက်မှာ တိုင်တန်ရေငုပ်သင်္ဘောရဲ့ အပျက်အစီး အပိုင်းအစတွေကို ကြာသပတေးနေ့ မနက်ပိုင်းမှာ ရှာဖွေတွေ့ရှိခဲ့တယ်လို့ အမေရိကန် ကမ်းရိုးတန်းအစောင့်တပ်က ပြောပါတယ်။
ပေါက်ကွဲပျက်စီးသွားတဲ့ တိုင်တန်ရေငုပ်သင်္ဘောမှာ အသက် ၅၈ နှစ်အရွယ် ဗြိတိန်ဘီလျံနာသူဌေး ဟာမစ်ရှ်ဟာဒင်း ၊ အသက် ၄၈ နှစ်အရွယ် ပါကစ္စတန်ဖွား ဗြိတိန် နိုင်ငံသား စီးပွားရေးလုပ်ငန်းရှင် ရှာဇဒါ ဒ၀ုဒ်နဲ့ သူရဲ့ အသက် ၁၉ နှစ်အရွယ် သားဖြစ်သူ ဆူလေမန် ၊ အသက် ၇၇ နှစ်အရွယ် ပြင်သစ် သမုဒ္ဒရာစူးစမ်းလေ့လာရေးသမား ပေါဟန်နရီ နာဂျီယိုလတ် နဲ့ ရေငုပ်သင်္ဘောကို ပိုင်ဆိုင်တဲ့ အိုရှင်းဂိတ် OceanGate ကုမ္ပဏီရဲ့ တည်ထောင်သူ စီအီးအို စတော့တန်ရှပ်ရှ်တို့ ပါဝင်သွားခဲ့တာပါ။ ရှာဖွေကယ်ဆယ်ရေးမှာပါဝင်တဲ့ စက်ရုပ်တွေဟာ သမုဒ္ဒရာကြမ်းပြင်မှာ အထောက်အထားတွေ ရှာဖွေမှုဆက်လုပ် သွားမယ်လို့ အမေရိကန် ကမ်းရိုးတန်းအစောင့်တပ်ကပြောပါတယ်။
ဒါပေမဲ့ သေဆုံးရုပ်အလောင်းတွေကို ပြန်လည်ဆယ်ယူရရှိနိုင်မယ့်အခြေအနေကိုတော့ ရှင်းလင်းပြောဆိုတာမရှိသေးပါဘူး။ အခုလို ရေငုပ်သင်္ဘော ပေါက်ကွဲပျက်စီးပြီး ခရီးသည်တွေ သေဆုံးသွားရတဲ့အတွက် စိတ်မကောင်းဖြစ်ရပြီး ဝမ်းနည်းဖွယ်ရာ ဆုံးရှုံးမှုကြီးဖြစ်တယ်လို့ OceanGate ကုမ္ပဏီပူးတွဲတည်ထောင်သူ ဂူလာမိုဆိုလိန်း ကပြောပါတယ်။ ရှာဖွေကယ်ဆယ်ရေးမှာ ပါဝင်ခဲ့တဲ့ အမေရိကန် ကမ်းရိုးတန်းအစောင့်တပ်ဖွဲ့ နဲ့ နိုင်ငံတကာ မိတ်ဆွေတွေကို ကျေးဇူးတင်ရှိကြောင်း အမေရိကန် သမ္မတ အိမ်ဖြူတော်က ထုတ်ပြန်ထားပါတယ်။
English Version:
The Titanic Explodes and the Passengers Die
US Coast Guard official said Thursday that an internal explosion killed all five aboard the Titanic submarine that went missing while en route to study the Titanic wreck. A remote-controlled robot sent by a Canadian ship to search for the Titanic found the wreckage of the Titanic submarine about 1,600 feet above the ocean floor Thursday morning, the U.S. Coast Guard said.
The 58-year-old British billionaire Hamish Harding was killed in the explosion of the Titanic submarine. 48-year-old Pakistani-born British businessman Shahzada Dawood and her 19-year-old son Sulaiman. The 77-year-old French ocean explorer Mr. Paul-Henri Nargeolet and Mr. Stuckton Rush, the founder and CEO of Ocean Gate, the company that owns the submarine, participated. The U.S. Coast Guard said the search and rescue robots will continue to search for evidence on the ocean floor.
However, there is still no clarification on the situation in which the bodies will be recovered. Ocean Gate co-founder Gula Mosoline said that it is a sad and sad loss because the submarine exploded and the passengers died. The White House of the United States President expressed his gratitude to the US Coast Guard and international friends who participated in the search and rescue.
Source: Daily Mail
Translated: Tongsan Media Admin Team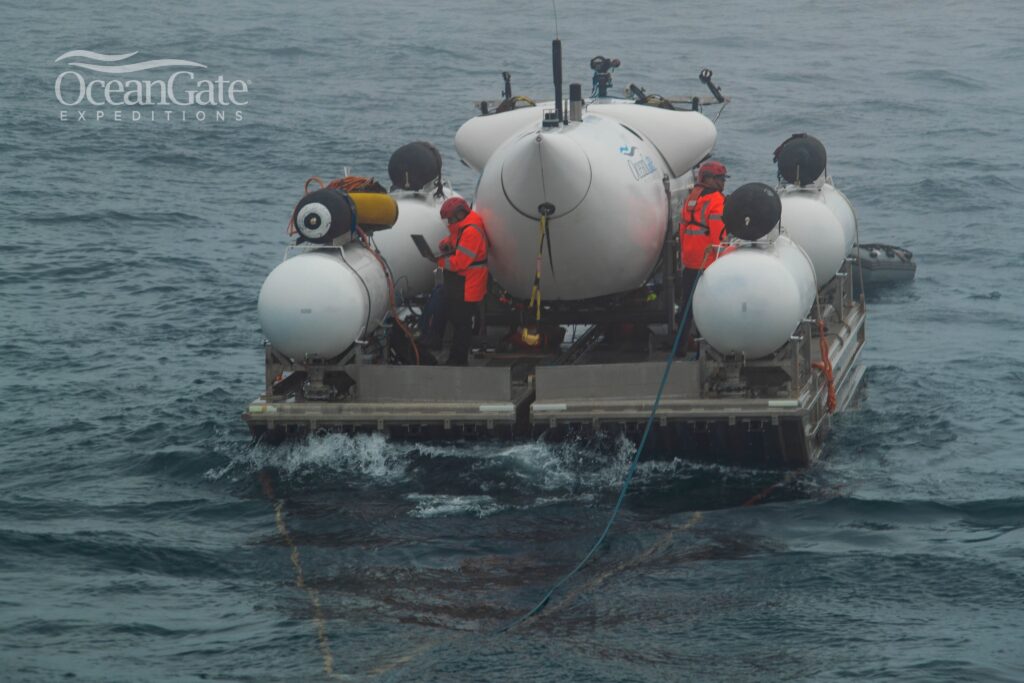 Hits: 0