Zomi Version:
Mizoram State pan Meitei Sangnaupangte Kipaikhiasak Ding:
India gam Manipur State ah abeisa May 3, 2023 ni akipan Meitei (Katee) leh Zosuan (Kuki-Zomi) kikal minam buaina lianpi kipankhia hi. Hih buaina huhau in abeisa May 4, 2023 ni-in Meitei mihonpi-in, Imphal khuapi ah sangkah a om Zosuan (Kuki) numeite pen a inn sapna (rent house /Hostel) sung pan kaikhia uh ci hi. Tua Kuki sangnaupang numei nihte pen Meitei mite' teenna Kangpokpi khuapi huam Phainuam khuaneu khua pua lamah a guaktang (Puansilhlo) in paikhiatpih bek tham loin, tangvalte'n buan in mawhpih ziahziah uh a, a tawpna ah thatlum uh hi.
Tua bangin abawlsiatna uh kitheikhia pak loin hun sawtpi sung a ki-imcipna pan tukha July 19, 2023 ni pawlin Online Social media tungah akibawlsiatna Video te hong kikhahkhiat ciangin India gam sung bek hi nawn loin leitung buppi ah hong kizelkhia ta ahih manin, Meiteite' gamtat siatna hangin, India kumpi pen leitung maitang ah minsia mahmah uh hi.
Hih Meitei mihonpi te'n Kuki sangnaupang nungak nihte a bawlsiatna hangin Aizawl khuapi a om Meitei sangnaupangte minsazian la a, ciapteh dingin Mizo Universities Student Union, President Pu Samuel Zoramthangpuia in abeisa July 24, 2023 ni-in pulakkhia hi. Tua bek hi loin, " No, Meitei sangnaupangte' ading na nuntakna uh lauhuai dinmun ah om ahih manin, mun muanhuaina ah kihem in taikhia ta un" ci-in Mizo University Union, President Pu Samuel Zoramthangpuia in genbeh hi.
Tua banah July 25, 2023 ni zingsang (11:00am) hun akipan Mizoram bupah Meiteite'n i sanggam Kuki nungak nihte abawlsiatna tawh kisai Mizoram bupah lungphona (Demonstration) thupitak kinei dingin pulakkhia cih kiza hi. Hih India kumpite minsiatna ciang bek hi thei nawn loin, UN thukhun zumpi dongah thukhenna thuak thei ding dinmun ah tungto ta hi.
Burmese Version:
မီဇိုရမ်ပြည်နယ်မှ ကသည်းလူမျိုးများ ထွက်ခွာဖို့ မီဇိုတက္ကသိုလ်သမဂ္ဂ ဥက္ကဌ သတိပေး
အိုင်ဇောလ်မြို့ မီဇိုတက္ကသိုလ်သမဂ္ဂရုံးချုပ်မှာ ဇူလိုင် ၂၀ ရက်နေ့ကကျင်းပတဲ့ ဘွဲ့ရမောင်မယ်သစ်လွင် ကြိုဆိုပွဲမှာ အခုလိုပြောကြားခဲ့တာဖြစ်ပါတယ်။ ဒါ့ပြင် ဇူလိုင် ၂၄ ရက်တွင် မီဇိုရမ်ပြည်နယ် ကျောင်းများအတွင်း ကသည်းလူမျိုးကျောင်းသူ၊ကျောင်းသားများ စာရင်းကောက်ယူသွားမယ်လို့လည်း ထုတ်ပြန်ထားပါတယ်။ အလားတူ ဇူလိုင် ၂၅ ရက်မနက် ၁၁ နာရီကစပြီး မီဇိုရမ်တပြည်နယ်လုံးမှာ အရပ်ဖက်အဖွဲ့အစည်းများအားလုံးပူးပေါင်းပြီး "သွေးချင်းညီအစ်ကိုများ ထောက်ခံပွဲ" ပြသတဲ့အနေနဲ့ လမ်းလျှောက် ဆန္ဒပြကြဖို့လည်းရှိပါတယ်။
ဒီပတ် ဇူလိုင်လ သုံးပတ်မှာ မေလ ၄ ရက်ကဖြစ်ပျက်ခဲ့တဲ့ ကသည်းလူမျိုးလူအုပ်ကြီးက ချင်း (ကူကီး) အမျိုးသမီး နှစ်ဦးကို အဝတ်ဗလာဖြင့် ဖမ်းဆီးခေါ်ဆောင်တဲ့ ဗီဒီယိုဖိုင်တစ်ခု အွန်လိုင်းပေါ်ပျံ့နှံ့လာပါတယ်။ ယင်းအခင်းဖြစ်ပွားမှုဟာ မဏီပူရ် ပြည်နယ် Kangpokpi ခရိုင်၊ B Phainom ကျေးရွာတွင် ဖြစ်ပွားခဲ့ခြင်း ဖြစ်ပြီး အမျိုးသမီး တစ်ဦးကို အုပ်စုဖွဲ့ အဓမ္မပြုကျင့်ပြီးနောက် သတ်ဖြတ်ကြတယ်လို့သိရတယ်။
English Version:
President of Mizo University Union warns the Kait people to leave Mizoram
He said this at the welcome ceremony for graduation held on July 20 at the Mizo University Union headquarters in Aizawl. In addition, on July 24, it has been announced that there will be an enumeration of Meitei students in Mizoram state schools. Similarly, from 11:00 am on July 25th, all civil organizations will participate in a walk and protest in Mizoram to show support for "blood brothers".
This week, a video clip of two Chin (Kuki) women being abducted naked by a Caitlin mob on May 4th has gone viral online. The incident occurred in Kangpokpi district of Manipur state. It happened in B. Phainom village and it is known that a woman was gang-raped and then killed.
Source: Zalen News
Translated: Tongsan Media Admin Team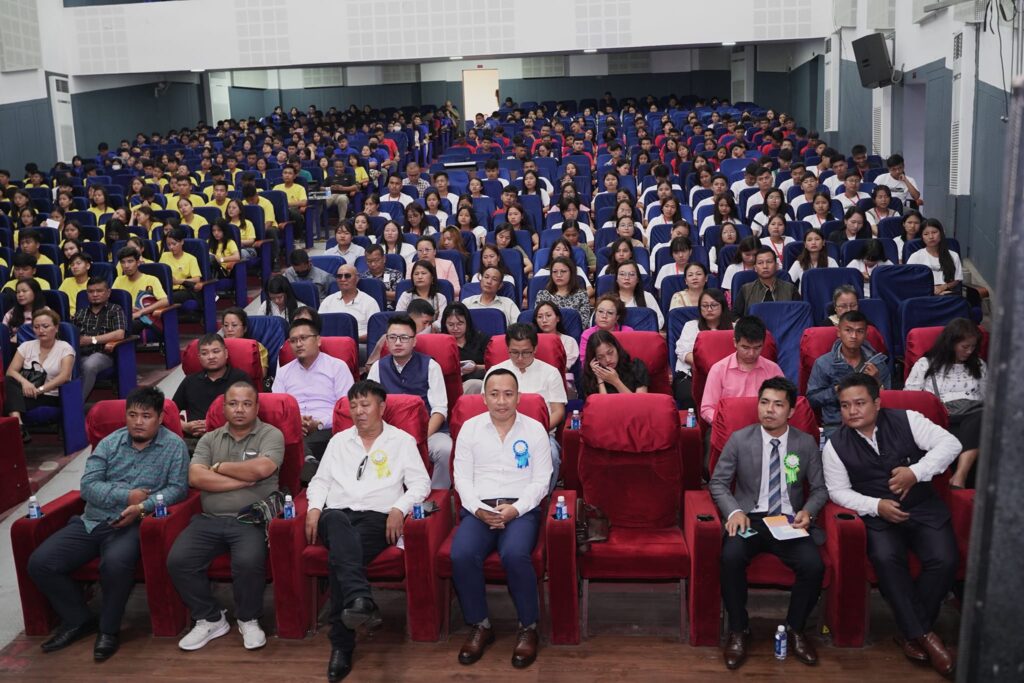 Hits: 0