July 1, 2023 || Tongsan Media Group ||
Zokam Version:
Hmawlaik Kikapna ah Captain 1 leh Nautang 10 si
Sagaing Division, Hmawlaik township, Taung Inn khuaneu kiang a om Kawlgam galkap (SAC)te' galphual pen tuni June 30, 2023 ni-in NUG ukna nuai a om PDF te'n buluak uh a, galkap ulian (officer) kihel galkap 10 si-in, galvan tampi ngah / sutkhia uh cih thu NUG kumpi, galkap zumpi (Ministry of Defense) in tangko khia uh hi.
Kawl galkap (SAC) ii Kha Mah yah (365), Kha Mah Yah (366), Police leh Pyusaw Htee akigawm vekpi galkap 50 val kipawlkhawmte' galphual pen June 30, ni zingsang tungin, PDF battalion (1), Hmawlaik district battalion (2), battalion commander makaih PDF galkapte'n vado / buluh uh cih kiza hi.
Tua galphual buluak kidona ah ukna buluh (SAC) Regional Command Headquarters (Kalay) a tawmvei sung phualsatna ahi Mi-35 gal vanleng tawh thum vei va kap uh a, Madalay- ThadaOo galvanleng phualpi pan gal huh a lengkhia A-5 bomb khiatna vanleng tawh khatvei akap uh hangin, SAC galkapte' galphual pen PDF te'n lakkhiatsak cih kiza hi.
Kawlgam galkap (SAC)te' galphual buluak / kikapna pen zingsang (05: 15am – 11: 45am) ciang nai 6 val sung sawt kikapna ah Ukna buluh (SAC)te' lam pan Bridge 1 akihel galkap (SAC)te 10 si cih thu pulakna nei uh hi. Ukna buluh (SAC) galkapte' tung pan MA-7 (60), Mahmah long diamond drill lawng 1, BA-100 (60), Mahmah Commando diamond mill lawng khat, MA-10 RPG lawng khat, MA-1 mal khat, MA-2 lawng khat, BA-64 lawng khat, M1 carbine khat leh ammo.
Tua banah thau angah zah vekpi lawng 7 leh thautang tampi banah Kawlgam galkapte' vanzat (munitions and military equipment) ngah khia uh ci hi. Hih kikap / kidona ah PDF galkapte aliam, abai leh a si om/ omlo cihte kitheician nailo ci hi.
Burmese Version:
မော်လိုက်စခန်းသိမ်းတိုက်ပွဲ ဗိုလ်ကြီးတစ်ဦး အပါအဝင် စစ်ကောင်စီတပ် ၁၀ဦးသေ
စစ်ကိုင်းတိုင်း မော်လိုက်မြို့နယ်၊ တောင်အင်းကျေးရွာအနီးရှိ စစ်ကောင်စီတပ် စခန်းကုန်းအား ယမန်နေ့က တိုက်ခိုက်သိမ်းပိုက်ခဲ့ရာ စစ်ကောင်စီတပ်မှ အရာရှိအပါအဝင် ၁၀ဦးသေဆုံးပြီးလက်နက်ခဲယမ်းများ သိမ်းဆည်းရရှိခဲ့ကြောင်း အမျိုးသားညီညွတ်ရေးအစိုးရ(NUG) ကာကွယ်ရေးဝန်ကြီးဌာနက ယနေ့ သတင်းထုတ်ပြန်သည်။
စစ်ကောင်စီ၏ ခမရ (၃၆၅)၊ခမရ (၃၆၆)၊ ရဲနှင့် ပျူစောထီး အင်အား ၅၀ခန့် ပူးပေါင်းအခြေချတပ်စွဲထားသော စခန်းကုန်းအား ဇွန်လ ၃၀ရက် နံနက်အစောပိုင်း၌ ပြည်သူ့ကာကွယ်ရေးတပ်မတော်၊ အမှတ်(၁)စစ်ဒေသ၊ မော်လိုက်ခရိုင်တပ်ရင်း (၂)၊ တပ်ရင်းမှူးဦးစီးသော ပြည်သူ့ကာကွယ်ရေးတပ်မတော်သားများက တိုက်ခိုက်ခဲ့ခြင်းဖြစ်သည်ဟု ဆိုသည်။
စခန်းသိမ်းတိုက်ပွဲဖြစ်ပွားရာသို့ စစ်ကောင်စီတပ် ဒေသကွပ်ကဲမှုစစ်ဌာနချုပ်(ကလေး)တွင် ယာယီ အခြေပြုထားသည့် Mi-35 အကြီးစားတိုက်ခိုက် ရေး ရဟတ်ယာဉ်ဖြင့် သုံးကြိမ်လာရောက်တိုက်ခိုက်ခဲ့ပြီးတံတားဦး လေတပ်စခန်းမှ တက်လာသည့် A-5 ဗုံးကြဲတိုက်ခိုက်ရေး လေယာဉ်ဖြင့် တစ်ကြိမ်လာရောက် တိုက်ခိုက်ခဲ့သော်လည်း ရန်သူ့စခန်းကုန်းအား သိမ်းပိုက်ရရှိခဲ့ကြောင်း အသိပေးထားသည်။ စခန်းသိမ်းတိုက်ပွဲမှာ နံနက် ၅နာရီ ၁၅မိနစ်အချိန်မှ နံနက် ၁၁နာရီ ၄၅မိနစ်ခန့်အထိ ၆နာရီခွဲကျော်ကြာမြင့်ခဲ့ပြီး ရန်သူအကြမ်းဖက်စစ်တပ်မှ ဗိုလ်ကြီး တစ်ဦးအပါအဝင် ၁၀ဦးသေဆုံးခဲ့ကြောင်း ထုတ်ပြန်သည်။
ထို့ပြင် စစ်ကောင်စီတပ်ထံမှ MA-7 (၆၀) မမ စိန်ပြောင်းအရှည် တစ်လက်၊ BA-100 (၆၀) မမ ကွန်မန်ဒိုစိန်ပြောင်း တစ်လက်၊ MA-10 RPG တစ်လက်၊ MA 1 တစ်လက်၊ MA 2 တစ်လက်၊ BA-64 တစ်လက်၊ M1 ကာဘိုင် တစ်လက်နှင့် ကျည်၊ ခဲယမ်းအများအပြား စစ်အသုံးအဆောင်များ သိမ်းဆည်းရရှိခဲ့ကြောင်း ဓာတ်ပုံမှတ်တမ်းများနှင့်အတူ ဖော်ပြသည်။ အဆိုပါတိုက်ခိုက်မှုအတွင်း PDFရဲဘော်များ ထိခိုက်ကျဆုံး ရှိ၊မရှိ အခြေအနေကို ဖော်ပြထားခြင်းမရှိပေ။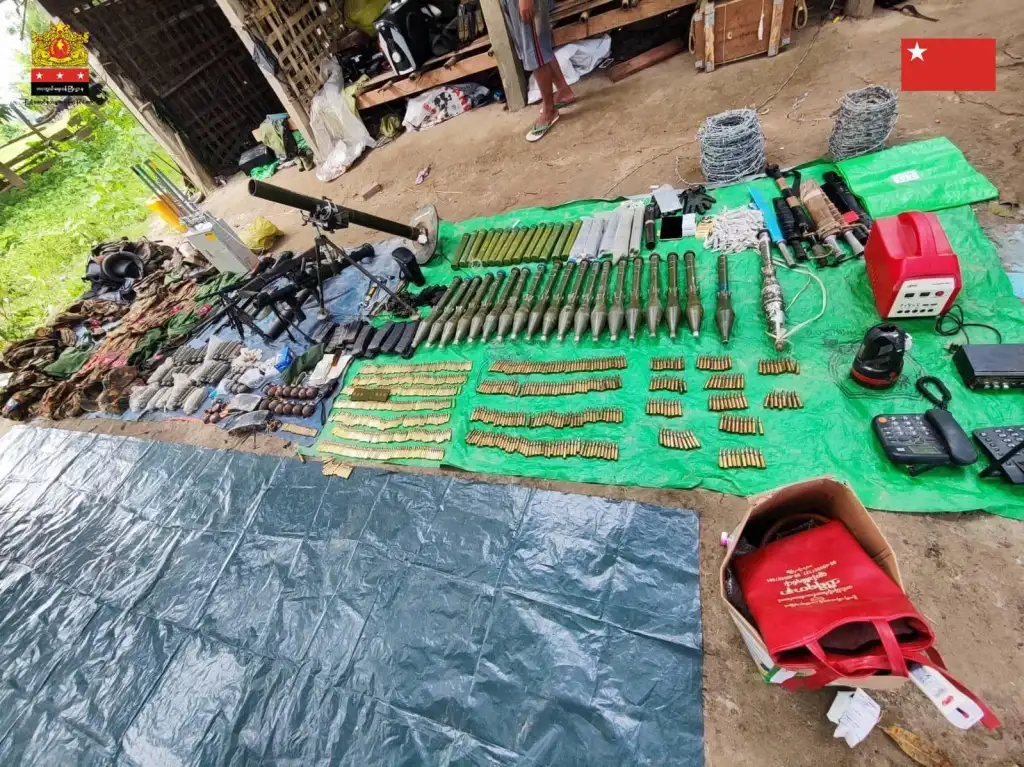 English Version:
10 Members of the Military Council, including a Captain were killed in the battle to capture Hmawlaik camp
Sagaing Division, Hmawlaik township, the Ministry of Defense of the National Unity Government (NUG) announced today that 1 officer including 10 were killed an attack on the military council army camp near Taung Inn village yesterday.
Military Council, Kah Mah Yah (365), Kha Mah Yah (366), in the early morning of June 30, the People's Defense Army No. (1) Military Region Hmawlaik District Battalion (2); It is said that the attack was carried out by the People's Defense Forces led by the battalion commander.
Mi-35 heavy attack helicopters, which were temporarily based at the Military Council Army's Regional Command Headquarters (Child), attacked the camp three times, and A-5 bombers from Bridge U Air Base attacked once, but the enemy's camp was captured. The battle to capture the camp lasted for more than 6 and a half hours from 5:15 am to 11:45 am, and 10 people including a captain from the enemy terrorist army were reported dead.
In addition, a MA-7 (60) mm long diamond drill from the Military Council. BA-100 (60) Miss Commando diamond mill, one MA-10 RPG; One MA 1 One MA 2 One BA-64; An M1 carbine and ammo. A large number of munitions and military equipment were recovered, along with photographic records. It was not revealed whether any PDF soldiers were injured in the attack.
Source: People's Spring
Translated: Tongsan Admin Team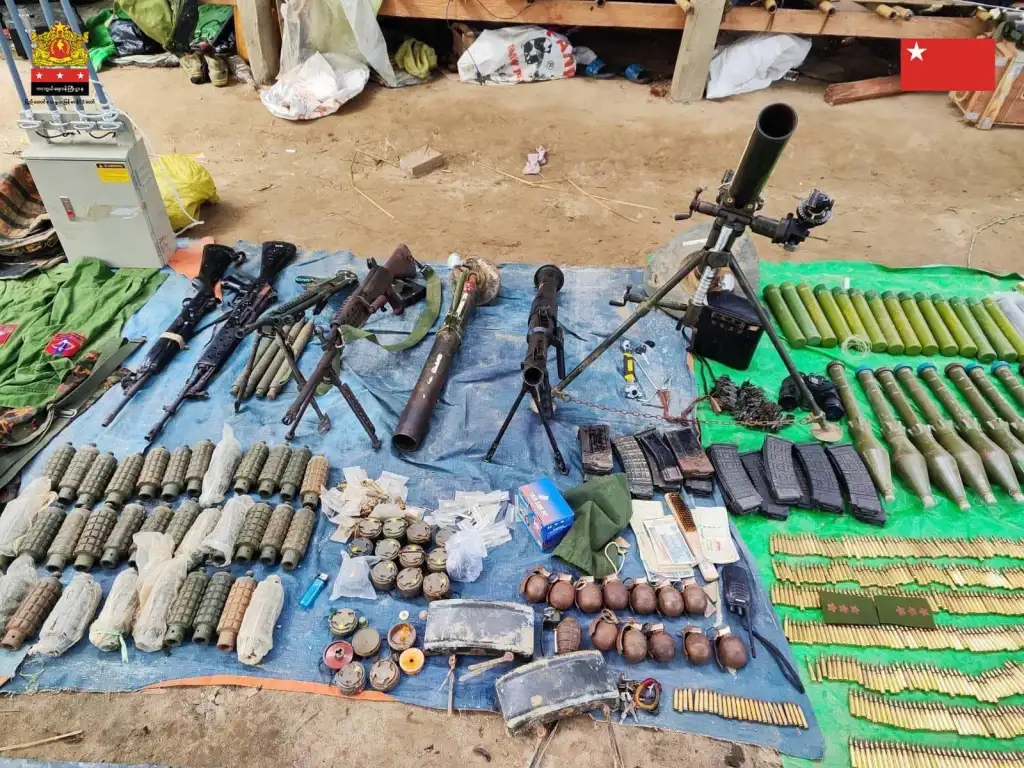 Hits: 0