July 7, 2023 || Tongsan Media Group ||
Zokam Version
Ukna buluh (SAC)te' Camp ah YGF leh KNLA te'n Buluh:
Mon State, Ye Township, Khawza khuapi pan tani 14 a gamlatna a om Ukna buluh (SAC)galkapte kizopna camp phualpi pen Ye Guerrilla Forces (YGF) te leh KNLA Battalion (27), battalion 2 te kipawl in, July 6, 2023 zankim (11:00pm) hun pawlin va sim uh a, langnih tuak pan nasiatak kikaptuah uh ci hi. Kikap hun uh pen zankim laitak ahih manin, a si aliam cihte kitheician nailo himah leh SAC galkapte taikhia mang uh ahih manin, a galvan uh tampi tak ngah khia uh cih thu July 7, 2023 ni-in YGF thuneiten pulakkhia uh hi.
"Ka kidona uh pan tai 1 bek kigamlatna SACte' gal phual panin galhuhte pai ngamlo uh hi" ci-in YGF makai Bo Kyan Yit in gen hi. SAC te' neihsa kizopna khau khuampite zong mei tawh kihalsak thei ahih manin, YGF te zong nungkin kik thei cih kiza hi.
SAC te galphual ah a nusiat galvante pen; mines 3, 5.56 M 16 tang 218, 40mm thautang 20, khutlot bomb 20, thaulawng 10, NRC card 2, phone 3 le uniform 1 cih teng YGF leh KNLA te'n ngah khia uh cih kiza hi.
Burmese Version:
ရေးမြို့နယ်ရှိ စစ်​ကောင်စီစခန်းကုန်းကို​တော်လှန်​ရေးတပ်ဖွဲ့များစီးနင်း
မွန်ပြည်နယ်၊ ရေးမြို့နယ်၊ ခေါဇာမြို့နယ်ရှိ စစ်ကောင်စီတပ်စွဲထားသော ဆက်သွယ်ရေးစခန်းကုန်းအားဝင်ရောက်စီးနင်းခဲ့ပြီးခဲယမ်းနှင့်ကျည်များစွာရရှိကြောင်းရေးပြောက်ကျားတပ်ဖွဲ့ YGF က ယနေ့ ထုတ်ပြန်သည်။ ၁၄ မိုင်ကျေးရွာအနောက်ဘက်တွင်ရှိသောဆက်သွယ်ရေးစခန်းကုန်း၌ စစ်ကောင်စီမှအရာရှိဦးစီးအင်အား၁၀ ဦးခန့်တပ်စွဲထားပြီး KNLAတပ်ရင်း(27)၊ တပ်ခွဲ (2) နှင် YGF-ရေးပြောက်ကျားတပ်ဖွဲ့ ပူပေါင်းစစ် ကြောင်းတို့က ယမန်နေ့(ဇူလိုင် ၆ရက်) ည ၁၁ နာရီခွဲခန့်က ဝင်ရောက်စီးနင်းတိုက်ခိုက်ခဲ့ခြင်းဖြစ်သည်။
ဝင်ရောက်စီးနင်းတိုက်ခိုက်ချိန်မှာညအချိန်ဖြစ်သောကြောင့် မည်မျှထိခိုက် သေဆုံးဒဏ်ရာရသည်ကို မျက်မြင်အတည်ပြုနိုင်ခဲ့ခြင်းမရှိဘဲစစ်ကောင်စီတပ်သားများ ထွက်ပြေးတိမ်းရှောင်သွားခဲ့ရသည်ဟု အသိပေးသည်။
"ဝင်စီးတဲ့ စခန်းကုန်းနဲ့ ခမရ ၂၉၉ တပ်က တစ်မိုင်ကျော်ပဲရှိတာတောင် စစ်ကူမလိုက်ရဲကြဘူး"ဟု YGF ခေါင်းဆောင် ဗိုလ်ကျန်ရစ်က ပြောသည်။ စစ်ကောင်စီပိုင် ဆက်သွယ်ရေးတာဝါတိုင်ကိုလည်းမီးရှို့ဖျက်ဆီးခဲ့ပြီ နောက် ပူးပေါင်းတပ်ဖွဲ့ကပြန်လည်ဆုတ်ခွာခဲ့ကြောင်း သိရသည်။
စစ်​ကောင်စီ၏ဆက်သွယ်ရေးစခန်းကုန်းမှရှေ့ထွက်မိုင်းသုံးလုံး၊ကပ်သီး ၁၈ ခု၊ 5.56 (M-16)ကျည် ၂၁၈ တောင့်၊40mm ကျည် လုံး၂၀၊လက်ပစ်ဗုံး ၂၀၊ကျည်ဘောက် ၁၀ခု၊အီကွေမင့် နှစ်စုံ၊မှတ်ပုံတင် နှစ်ခု၊ဖုန်းသုံးလုံးနှင့်ယူနီဖောင်းတစ်စုံ(တပ်သားအဆင့်)ရရှိကြောင်းသိရသည်။
English Version:
Revolutionary forces attack the Military council camp in Ye Township
Mon State Ye Township, Ye Guerrilla forces YGF announced today that they raided the communication camp stationed by the military council in Khawza township and found a lot of ammunitions. About 10 officers from the military council were stationed at the communication station hill west of 14 miles village, KNLA battalion (27), Company (2) and YGF-affiliated Guerrilla Force's raided yesterday (July 6) at around 11:30 p.m.
As it was night time during the raid, it was not possible to confirm the number of casualties, but the military council soldiers had to flee. "Even though the 299th army was just over a mile away from the attacked camp, they didn't dare to send reinforcements," said YGF leader Bo Berei. It is reported that the military council's communication tower has also been burned and the joint forces have retreated.
Three mines and 18 explosives from the military council's communication camp hill. 218 rounds of 5.56 (M-16) ammunition, 20 rounds of 40mm rounds, 20 grenades, 10 ammunition boxes, two sets of equipment, two registers, three phones and a pair of uniforms (soldier level).
Source: People's Spring
Translated: Tongsan Media Admin Team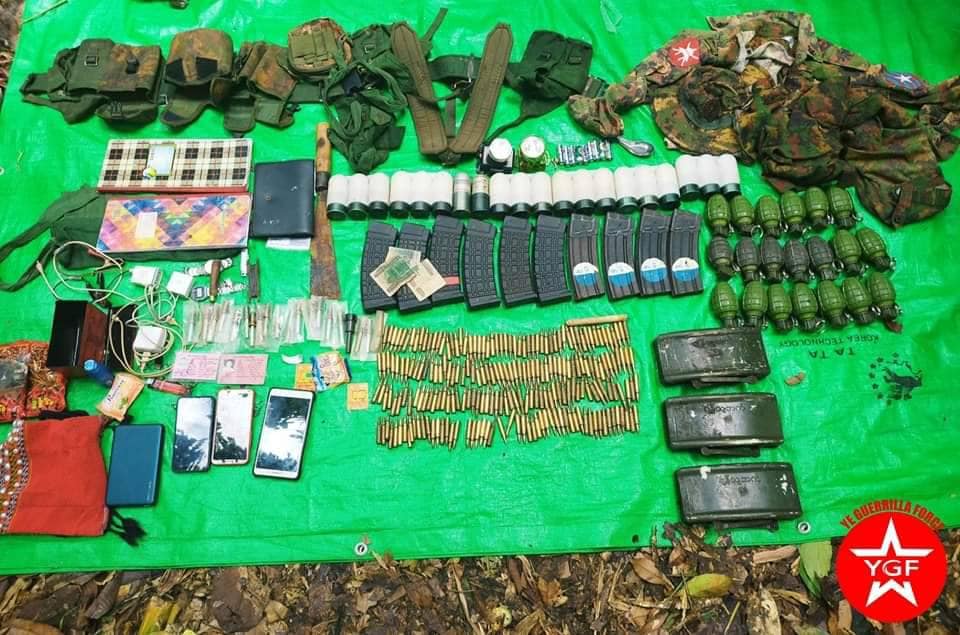 Hits: 0