July 2, 2023 || Tongsan Media Group ||
Zokam Version:
Taingen Khua, Ukna buluh (SAC)te' Galphual ah Gal huh ding 60 kim Puak:
Chin State, Tedim township, Taingen khua ah Ukna buluh (SAC)te'n Camp sat uh a, CDF, CDM-Siyin galkapte'n zong, "Khutzep in ki-en mawk lo ding hi" ci-in, abeisa June 30, ni-in tangkona a neih khit uh July 1, 2023 ni-in Ukna buluh (SAC)ten Kawlpi pan gal huh ding kuanto sak uh cih kiza hi.
Taingen khuamite khatin a genna ah, "zanni July 1, nitak lam nai 4:00pm hunin Kalay University pan Ukna buluh (SAC)te Mawtaw 3 tawh Zogam lamah gal huh ding puakto " ci-in gen hi. Khamtung lam tun kuan uh teh Mawtaw zang ngam nawnlo in, Taingen ciang Khe tawh pai uh ci-in gen lai hi. Kawlpi pan Taingen khua kikal Mawtaw tawh nai 3 sung kihawl ci hi.
CDF,CDM Siyin te'n abeisa June 30 ni a tangkona lai sungah Siyin gam huam Taingen khua ah phualsat a om Ukna buluh (SAC)te'n mawhna neilo / bang mah thu theilo khuamite akipan khualzin mite manin thusit bek tham loin, " PDF te pawl hilo na hi uh hiam? ci-in bawlsia in, thau tawh vau gawp den uh ahih manin, CDF, CDM Siyin te'n khutzep in ki-en mawk lo ding hi ci-in a pulak uh ahi hi. Tua hi in, tusung tengin Taingen khua a om Ukna buluh (SAC)te' Camp nawkin khualzin gamvak mipite pen PDF pawlte hi uh teh ci-in zawhthawh thu tawh mawhsak, tawn bawl bek tham loin, thusit gawp uh ci hi.
Burmese Version:
သိုင်းငင်းရွာ စစ်ကောင်စီ စခန်းသို့ စစ်ကောင်စီမှစစ်ကူ အင်အား ၆၀ လောက်ပို့
တီးတိန်မြို့နယ်၊ သိုင်းငင်းကျေးရွာက စစ်ကောင်စီကင်းစခန်းကို CDF CDM SIYIN တပ်ဖွဲ့က လက်ပိုက်ကြည့်နေမှာမဟုတ်ဘူးလို့ ဇွန်လ ၃၀ ရက်ကစာထုတ်ပြီးနောက် ဇူလိုင် ၁ ရက်တွင် ကလေးမြို့ကနေ စစ်ကူ ၆၀ လောက် စစ်ကောင်စီကလွတ်လိုက်တယ်လို့သတင်းရရှိပါတယ်။
ဒေသခံတစ်ဦးက "မနေ့ (ဇူလိုင်)ညနေ ၄ နာရီလောက်က ကလေးတက္ကသိုလ်ကနေ စစ်ကား ၃ စီးနဲ့ ချင်းတောင်ဘက်ကို စစ်ကူပို့လိုက်တယ်။ တောင်ပေါ်ရောက်တော့ ခြေလျင်နဲ့တက်ကြတယ်။ ခုတော့ သိုင်းငင်းရွာရောက်လောက်ပြီ"လို့ပြောပါတယ်။ ကလေးမြို့ကနေ သိုင်းငင်းကျေးရွာဟာ ကားနဲ့ ၃ နာရီလောက်သာမောင်းရပါတယ်။
CDF CDM SIYIN က ဇွန်လ ၃၀ ရက် ထုတ်ပြန်ချက်စာထဲတွင် စီးယင်းနယ် သိုင်းငင်းကျေးရွာ တွင် ထိုင်နေသော စကစ ကင်းစခန်း ရှိ စကစများ မှ အပြစ်မဲ့ ပြည်သူများကို စစ်ဆေးဖမ်းဆီးကာ PDF ဟု မတရား စွပ်စွဲပြီး ပြည်သူများအပေါ် လက်နက်ကိုင်ဆောင်ကာအနိုင်ကျင့်မှုများ တစ်နေ့ထက်တစ်နေ့ များ လာသည်နှင့်အမျှ ဒေသခံ ပြည်သူ့ ကာကွယ်ရေး အဖွဲ့ဖြစ်သော CDF CDM SIYIN မှ လက်ပိုက်ကြည့်နေတော့မည်မဟုတ်ကြောင်း ဖော်ပြထားပါတယ်။အခုရက်ပိုင်းတွင် သိုင်းငင်းကျေးရွာက စစ်ကောင်စီကင်းစခန်းမှာ ခရီးသွားတဲ့ ရွာသားများကို တော်လှန်ရေးတပ်သားလို့စွပ်စွဲကာ ဖမ်းဆီးမှုတွေရှိပါတယ်။
English Version:
About 60 Reinforcements from the Military Council were sent to the Military Council camp in Taingen village
Tedim Township, After issuing a letter on June 30 that CDF, CDM Siyin will not watch over the Military Council outpost in Taingen village, it is reported that on July 1, about 60 reinforcements were released from the Military Council.
A resident said, "Yesterday (July) around 4:00 p.m., Children's University sent reinforcements to south Chin with 3 military vehicles. When they reached the mountain, they climbed on foot. Now we have reached the village of Taingen," he said. It is only a 3-hour drive from Kalay City to Taingen village.
CDF, CDM Siyin, in a press release on June 30, stated that CDF CDM SIYIN, a local people's defense group, will no longer standidly by as the armed forces and violence against the people continue to increase day by day by arresting innocent people and unjustly accusing them of being a PDF. These days, there are arrests of villagers who travel to the military council outpost in Taingen Village, accusing them of being revolutionary soldiers.
Source: Zalen News
Translated: Tongsan Admin Team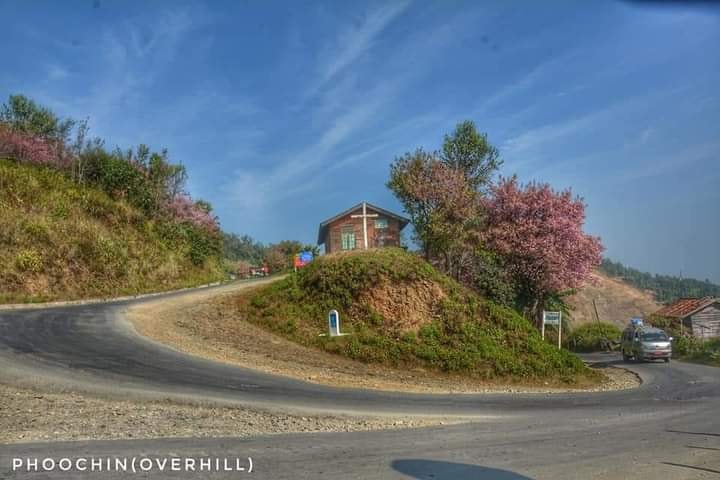 Hits: 0