September 26, 2023 || Tongsan Media Group ||
Sagaing Division, Depayin khuapi huam ah ukna buluh (SAC) galkapte lutna hangin, khua 14 pan tulsawm asim khuamite zan kimpi-in gal tai uh cih Ye-U khuapi huam pansan People's Defense Force (PDF)te' thugenpi Htoo Khant Zaw in genkhia hi. Septembet 25 ni nitak lamin Depayin khuapi huam sungah ukna buluh (SAC) galkapte lut uh a, khua 14 pan tulsawm sim tual sung mite tai kek uh a, SAC galkapte'n a nawkna lam dung khuate thaupi leh thauneu tawh kap ngekngek uh ci hi.
Tudong ciang mah Depayin khuapi huam sung a om Letyetkone khua, Nyaunggyikone khua, Moe khua, Mukatwin khua, Aungchanthar khua, Nyaunghla khua, Weagyi khua, Thayettaw khua, Kankone khua, Nabehla khua, Chaungpauk khua, Letse khua, Thapyaythar khua le Konegyi khuate pan khuamite zan kimpi in, inn le-lo nusia a gal tai uh ci hi.
"Gal beng (SAC) te Ye-U leitaw lam Segyi khua pan Depayin ni suahna lam Letyetkone khua-ah hong lutin, gal phual sat uh hi. Letyetkone khua pan zong thaupi tawh a kim a pam teng hong kap den uh hi. Setlet thau tawh zong khawl loin lawn den uh. Thaupi tawh hong kap uh ahih manin, tai loh phamawh himai! Mipite zong zan kimpi a tai kek loh phamawh uh" ci-in PDF thugenpi Htoo Khant Zaw in gen hi.
Tulaitak ukna buluh (SAC) galkapte bel Depayin khuapi huam Letyetkone khua sungah phualsat in om uh a, galkap mimal 130 kim pha ci hi. Abeisa September 8, 2023 ni ciangciang United Nations Office for the Coordination of Humanitarian Affairs (UNOCHA) in a pulakna ah SAC in ukna a buluh khit zawh Sagaing Region sungah galkikapna hangin, mipi galtai vekpi 813200 te'n inn leh lo nusia in taikek uh ci hi.
Ref: Khitthit Media
Translated: Tongsan Admin Team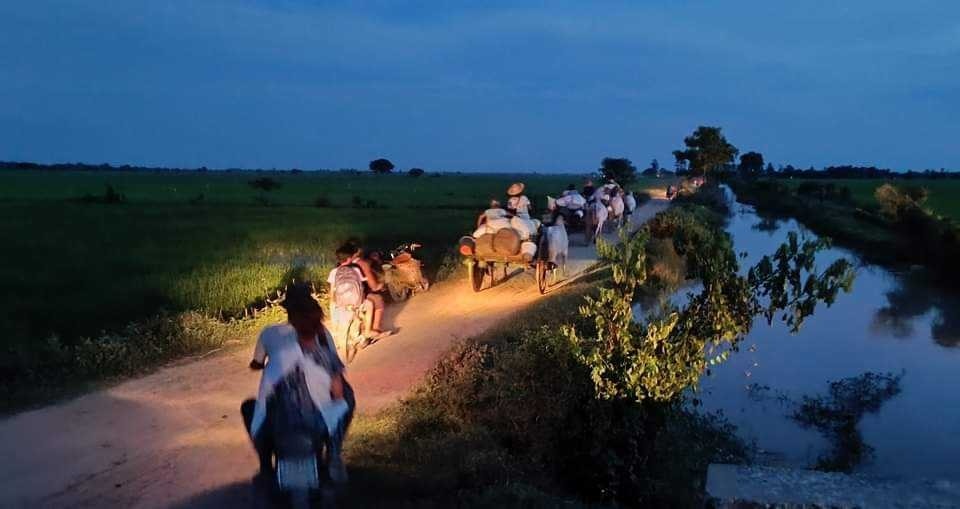 Hits: 4