October 23, 2023 | Tongsan Media Group ||
Abeisa October 7, 2023 ni a Gaza Area kim ah Hamas ngongtat te'n a kapzanna ah a site' sung ah Thailand gammi 8 kihel uh a, a luang hawmte October 21, 2023 ni-in Thai gamah tung ta hi. Hamas ngongtatte' matna sungah Thailand gammi vekpi 30 kihel uh a, 16 in liamna ngahin, gal antah dingin amat uh 17 pha cih thu Thailand Foreign zumpi in pulakkhia hi.
Hih a site' lakah Thailand gam a kipuaksa luang 8 te pen Israeli passenger plane tawh Bangkok's Suvarnabhumi International Airport ah kipuak hi a, Airport ah Thai kumpi thuneite makai in, buddist biakna ngeina tawh thungetna tawh hun thupitak bawlsak cih thu Israeli Foreign zumpi pan genkhia uh hi. Hih Israel gamah misi luangte pen amau gam leh lei ciatah sihvui hun bawlna akineihsak theihna ding deihsakna tawh akipuak sak hi ci-in Thailand thuneiten gen hi.
Israel gamah a site khempeuh limtak etcianna kinei masa phot ahih manin, a puakna kizekai tuam ci hi. Israel gam sungah nasem a om Thailand gammi vekpi 30000 kim om uh a, gambuaina hangin Thailand gam a ciah nuam minsazian piasa vekpi 8000 val phata ci-in, Thailand gamdang vaisaiten gen hi. October 22 ni-in Thai gammi 500 kim Israel Vanleng tawh a kipuak in, a om laite zong amanlang thei penin puak ding kihanciam laitak cih thu Permanent Secretary of the Thai Department of Labor in genkhia hi.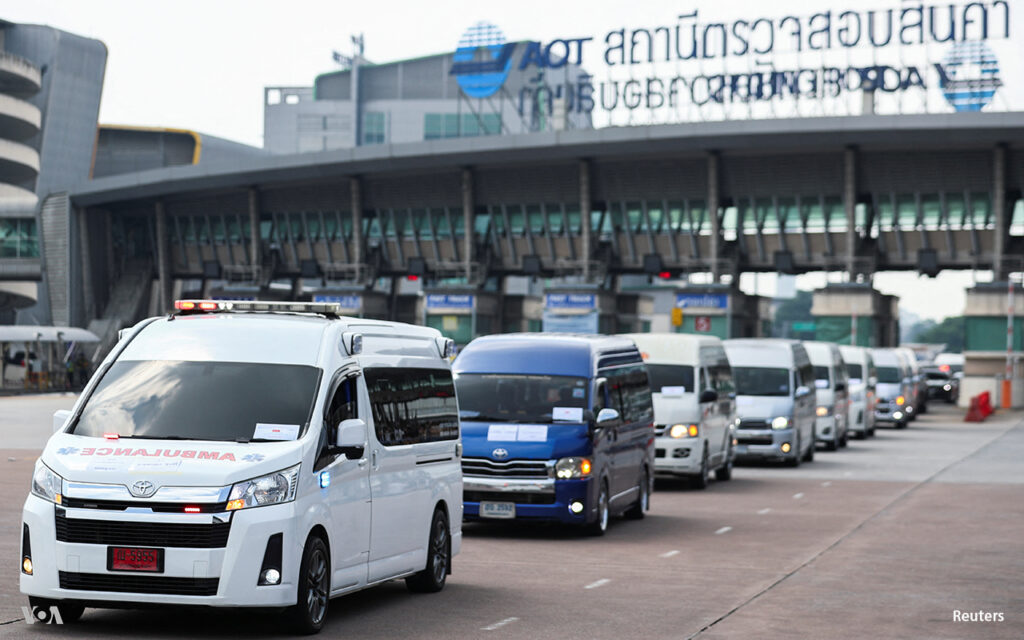 Hits: 4