Norway te' bawl $ 70 million man C-UAS kici galkapna nam tuamtuam akizang thei (multi purpose air defense system) huih lak lam akizang Drone namte pen Ukraine te huhna piak dingin Norwegian Defense Minister Bjørn Arild Gram in abeisa August 14, ni-in genkhia hi. Hih C-UAS Air defense System (Drone) pen Norway gam Kongsberg Defense & Aerospace galvan bawlkhiatna phualpi (manufacturing company) pan a thak liklek a kibawlkhia ci hi.
Mehteh mehgah kipuak / kizuakna tembaw khawlna mun, mi nautang te' tenna inn leh lote Russia ten Rocket thautang leh Drone te tawh a kap zelna pan hoihtak kidaltheihna ding ngimna tawh kibawl leh apiak uh ci hi. British makaihna tawh kiphuankhia Ukraine International Fund te' vaihawmna tawh hih bangin khensatna nei hi ci-in the Minister of Defense of Norway in genkhia hi.
Namkim a kizang vanlam gal kapna (Multi purpose air defense sysytem) banah Kongsberg Company mah pan kibawlkhia Dingo Sik mawtaw leh Thautang (Armored vehicles and ammunitio)te zong Ukraine huh dingin Company thuneiten gen hi. Russiate' ngongtatna leh hiamgamh nasepnate pen a tawp dong do zawhna ding Ukraine te akitangsap bangbang tatsat loin, huh ding hi ung ci-in Norway Defense Minister in genbeh hi. Tua banah Kongsberg Defense & Aerospace galvan bawlkhiatna Company pen NASAMS air defense sysytem a bawlkhia masapen Company ahi hi.
Source: People's Spring
Translated: Tongsan Admin Team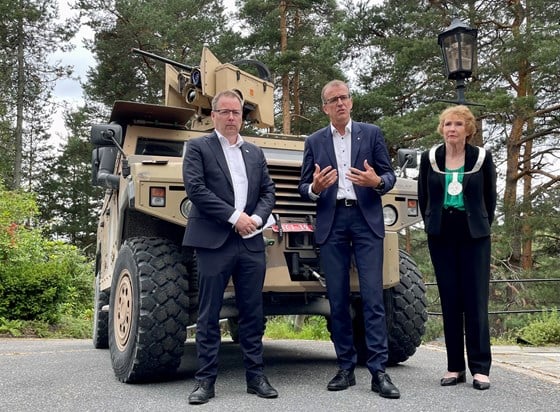 Hits: 6