July 27, 2023 || Tongsan Media Group ||
Manipur State, Churachandpur ah Kuki- Zomite leh Meitei (Talpak) te kikal kidopna khauhpai semsem a, tuni July 27, 2023 (Thursday) ni Kangvai khua kido/ kikapna ah Bolkot khuami i sanggam it Pa Lunminthang (Kum 30), in gam leh nam ading a nuntakna piakhia cih kiza ahih manin, a nusiat a zi, a tate teng, a nu le pa leh sanggamte tawh kibang in, Tongsan Media Group Inc. pan dahpihna lianpi i pulak hi.
Sanggampa Lunminthang pen a zi naupai laitak hi-in kikapna ah a kuanlo dingin kingen / thumna nei himah leh kikap/ kidona nasia lua ahih manin, nial theilo / lainaatna leh awlmawhna takpi tawh gam leh lei ading va kuankhia cih kiza hi. Akigen danin tuni July 27, zingsang khuavak ma akipan Meitei (Talpak), ngongtat (terrorist) hun khoptak leh police commando-te'n mortar bomb leh thau zangin Kangvai khua sung kap ( attack) kipan ziahziah ci hi. United Tribal Volunteer (UTV) duty a om te'n zong kapthuk in kikaptuahna nasia mahmah ci hi.
Kuki – Zomite' lamah galveng a om Uited Tribal Volunteer (UTV) te'n nuak suk pahin, Tronglaobi ciang dong nung delh khia uh hi. Ngongtat migilo (terrorist) Talpakte zong a tawm pen a mi 3 si cih thu kiza hi. Tuni Kangvai kikaptuahna ah Kuki-Zomi lam a si a liamte (casualties) teng a nuai bangin minsazian (List) i pulakkhia hi.
Details of injured persons:
1. Jangkholen Haokip (Kum 28), S. Molhoi Village
2. Kamminlal (Kum 32), Jangnomphai Village
3. Thanjahao (Kum 34), S. Bolkot Village
Details of dead:
1. Lunminthang (30), S. Bolkot Village
Source: ITLF Media
Hih bang kawmkal ah Myanmar leh India gamgi Moreh khuapi zongah Ngongtat Talpak terrorist-te leh Zomite nasiatak kikaptuahna om a, Assam Rifile (AR) leh police commando-te'n eimite' pansan (duty) na va buluh in galkap / volunteer 9 man uh ci hi.
Nnumei, pasal cih om loin, mipite kikaikhawm / mapang khawm uh a, makaite leh mipite panlakna hangin volunteer 9-te kihonkhia zo cih thuhoih kiza hi. Zosuan Salphate zahtakna leh pahtawina i pia ciat hi. Salphate' nuntakna leh a sisan uh mawk bei / mawk luanlo ding hi. A nusiat zi leh tate, nu le pa, sanggam laizomte khempeuh Topan hong kepsak ta peuh hen,!
Dahpihna lianpi tawh,
Tongsan Media Group Inc.
Headquarters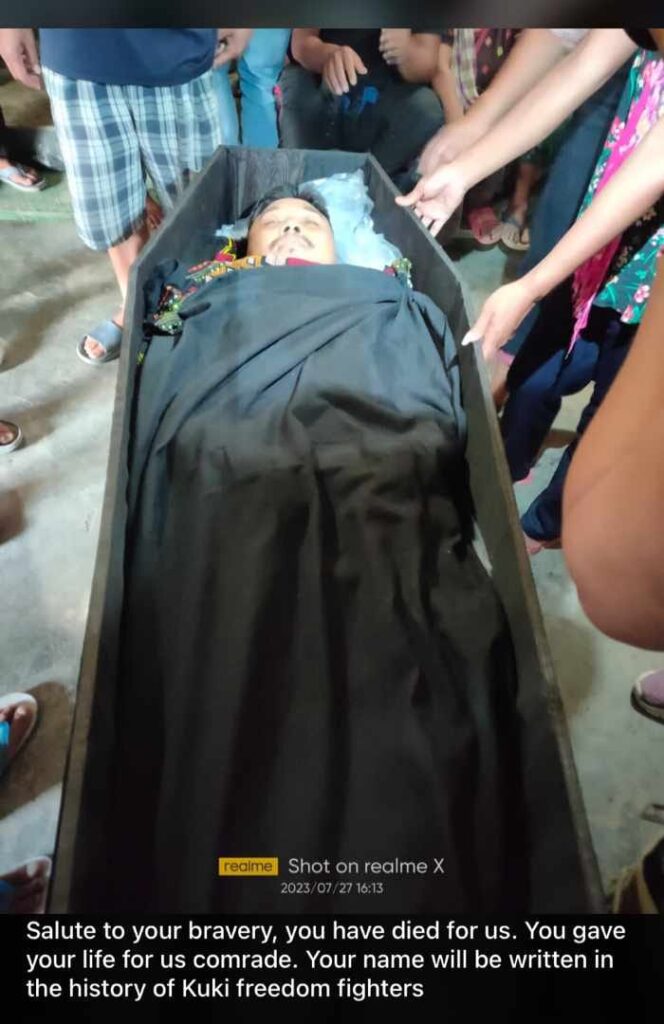 Hits: 8