October 3, 2023 || Tongsan Media Group ||
Mizoram State sung a om Siamsin Pawlpite in Siamsin Pawlpi Conference cum Cultural Meet 2023 pen abeisa September 28- 29, 2023 ninih sung Mizoram state, Mimbung khua ah thupitak bawl uh hi. Hih hun tawh kituak in Sialkal Range Development Council (SRDC) Chairman Cup 2023 kici, Volleyball (numei) leh Football (pasal)te kidemnate zong kinei ci hi. Mizoram, Myanmar gam Chin State leh Manipur State – Lamka pan Zo mi, Zo suan tampi kihelthei cih kiza hi.
Sialkal Range Development Council (SRDC), Chairman Cup pen SRDC ii huam khak khua 6 te ahi; Mimbung, Hiangmun, Teikhang, Kawlbem, Selam leh Vaikhawtang khua cihte panin Siamsin Pawlpi min tawh numeite volleyball leh pasalte football kidemna om a, Volleyball ah Kawlbem SSPP in khatna la uh a, Trophy+ Rs. 50,000/- ngah in, football ah Mimbung SSPP in khatna ngahin Trophy + Rs. 1,00,000/- ngah uh ci hi.
Siamsin Pawlpi Conference hun pen Sept. 28, 2023 nitak akipan hi-in, career guidance, ngeina laam lahna, SSPP block leh branch-te' tung pan report piakna hun cihte kizang hi. Sept. 29, 2023 zingsang in SSPP Vaihawmna hun Mimbung YMA hall ah kinei a, sun hunin Pandal / Mandat ah Conference hun nuamtak kizang ci hi. Hih hunah Zinmangpi (Chief Guest) Dr. L Thangmawi (MLA; Chairman, SRDC; Vice Chairman, Human Resources Development Board, Govt. of Mizoram) kicial a, Innteekpa in Dr. H Thansang (Mizoram Assembly a Speaker masapen) pang uh hi.
Hih hun sung mahah Mizoram sung a laisimna lamah pahtawi huai laisiam khangnote (Academic Excellency Award) mi 21 tungah kipiakhia hi. SRDC huam sunga sanginn pawlkhat ading in Computer set, printer leh P. A set hawmna zong om hi. Tua banah Lamka pan sanggamte huhna ding kaihkhopna, SSPP Gen. Hqtrs, MZP Gen. Hqtrs., SRDC Culture & Literature makaite tung panin thugenna cihte zong kinei ci hi. Zomi lasa minthangte' tungtawn in lasakna leh ngeina laam tuamtuam lahna zong om ci hi.
Sept. 29, 2023 zanlam hun pen Session nih in kikhen a, hun masa sungah Chief Guest (Zinmang) Pu T. Thang (President, Zomi Culture Society Hqtrs.) leh Innteekpa dinmun la Pu Pau Lun Min Thang, (Former Minister of Social Affairs, Chin State) zong kihelthei hi. Hun nihna ah Mizoram leh Manipur lam pan Zolia lasiam minthangte ahi; Pu Thangromawia, Thomte, Lia Mangnunmawi, Lia Zenngaihsang, Lia Shalomi Donngaihlian, Lia Christy Vunggohcing cihte in zai ziahziah uh a, tua banah Zotangte in zong Zo ngeina laam tuamtuam tawh lamvui kai uh ci hi. Zinmangpi leh Innteekpipa akipan thugen khempeuh in sim le mal, sak le khang a om Zosuante ki-itna, kipumkhatna leh sepkhopna ding vive mah limgen mahmah ciat uh hi.
Pu Dr. L Thangmawi in SRDC maban hiciang a tunna dinga, a sepnate, maban sepzia dingte akipan thu manpha tampi pulak hi. Dr. H Thansanga in zong a thugenna ah a citak, a kuhkal minam hih theihna dingin hanciamna kisam mahmah ahihna tawh mipite hansuahna nei hi. Pu T Thang in kipumkhat a kisapna, ZCS makaihna in India kumpi huhna tawh October 18-20 sungin Champhai ah Khuado Pawi kizang ding ahihna, Champhai ah NEC nuai panin teng 400 (₹ 400 lakhs) tawh Zomi Innpi (Zomi Cultural Center) kilam laitak cih thute pulakna nei hi.
Tua banah Pu Pau Lun in Chin State sung a om Zo mite leh India lam a omte kitanauna leh kizopna a picin semsem theihna ding thu tuamtuam gen hi. Hih hun zatna sungah, makai paikhawmte in "Mimbung Declaration 2023" cih thukimna bawl uh a, Sept. 29, 2023 ni-in Conference palaite in kipsakna nei ci hi. Tua declaration ah Mizogam sung a sim leivai ah PTC in sai-in, siamsinna lam SSPP leh ngeina leh zia le tong tawh kisai ZCS in a sai ding, cih vaipuak kipiakna nei cih kiza hi.
Reported by: Rev. Sawm Lian
Posted: Tongsan Tanute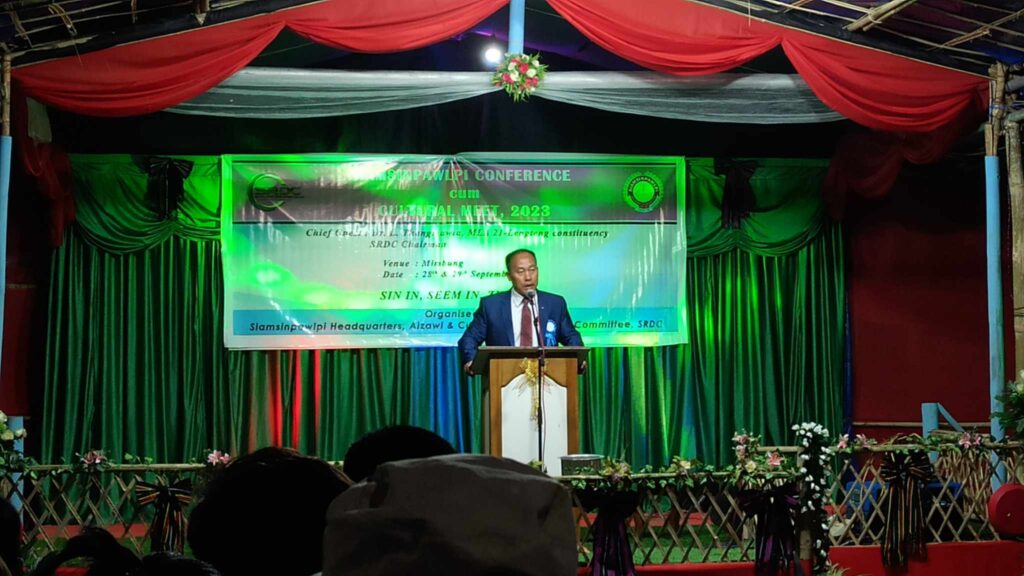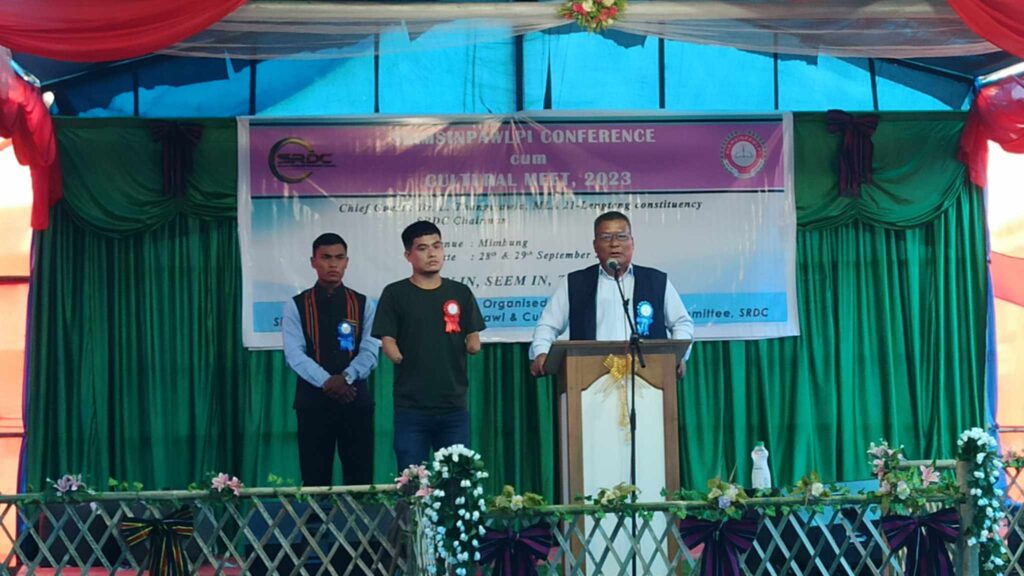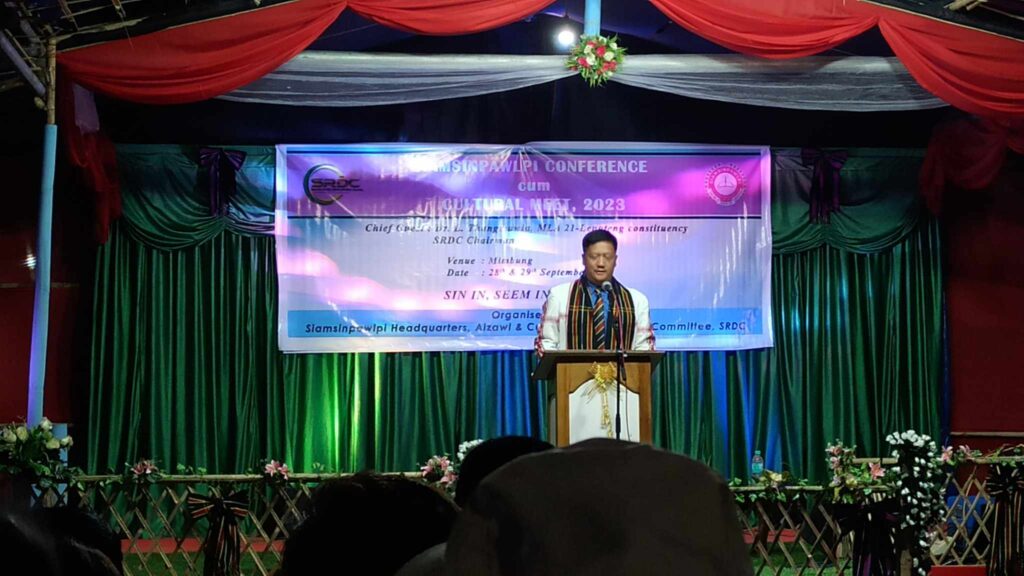 Hits: 7